technology
Pop Stardom Gets Easier to Track With Kobalt Music's Royalty App
By
Up-and-coming artists can see income piling up on cell phones

Upstart music label, publisher pitches itself as alternative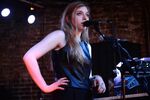 When her debut album is released in June, pop singer Verite will be able to learn in hours how much she's making just by looking at her mobile phone.
Verite, whose real name is Kelsey Byrne, can use a new app from New York-based Kobalt Music Group Ltd. to see how many people are listening to her music on Spotify or Apple Music, how old her fans are and what playlists are promoting her the most.
"I can walk down the street and see how many royalties are in my account for this quarter," Byrne said in a phone interview from London, where she's promoting a new song and playing a show.
The app, which debuts Tuesday, is available to musicians and smaller labels that, like Byrne, have signed with the company for the tools and services it provides independent artists. Kobalt has attracted some of the biggest songwriters, including Paul McCartney, Beck and Max Martin, by offering transparency, higher royalties and greater ownership of their music.
Together, streaming and social media have given musicians the ability to distribute and market music on their own, emboldening artists to work outside the traditional system. Kobalt has tried to exploit that opening, pitching itself as an artists' guide to the messy economics of streaming. The company's music publishing business and labels represent more than 1 million songs.
Kobalt's approach has drawn investors including Google and Michael Dell, who participated in a $60 million investment round in 2015. The company is again looking to raise funds, according to people familiar with the matter who asked not to be named discussing private negotiations.
Opaque Industry
Kobalt was founded in 2000 by Swedish native Willard Ahdritz just as the internet began destroying the music industry's primary source of sales, the CD. Ahdritz promised artists transparency and data, two foreign words in a business built on payola and opaque accounting.
"In no other industry could you get away with the behaviors that the music industry has," said Bill Maris, who oversaw the investment as head of Alphabet Inc.'s Google Ventures at the time. Kobalt is "just reinventing a medieval industry."
Six years later, another Swede, Daniel Ek, founded Spotify, which has blossomed into the world's most popular paid music streaming service. Led by Spotify, streaming has boosted sales for the global record business, and changed the way artists and labels interact.
Aided in part by the new AWAL app -- it stands for Artists Without A Label -- Kobalt is seeking a larger share of the record business, promising performers they can thrive without the three major labels.
Artist Recruiter
"There's a new sector of artists not catered to by the labels, and they can still have a sustainable, long-term career as a musician," said Paul Hitchman, who as president of Kobalt Music Recordings recruits artists like Byrne.
Kobalt's approach has its challenges. The company keeps less revenue than its peers in music publishing and recorded music. While labels offer large advances and take the lion's share of the sales, Kobalt gives artists 85 percent of all it collects. The company tries to offset that by being more efficient and not spending a fortune on advances. Still, Kobalt's loss widened to $27.3 million in the year ended June 30, 2015 from $18.5 million a year earlier. Sales grew 26 percent to $245.1 million, according to a filing in London.
Major labels can also weather a cold spell without a hit new artist by relying on their catalogs, which are increasingly valuable in the era of streaming. Kobalt doesn't own any music across its publishing and recording businesses.
After Byrne released her four-track "Echo" in 2014, record labels began recruiting her. She declined, opting to fund her second EP "Sentiment" the same way she had her first -- with tips from her job at Applebee's.
Byrne ultimately signed with Kobalt's AWAL streaming unit. She was already working with the company as a songwriter and didn't want to join a major label. Unaware she had earned as much as $100,000 from the first two EPs, Byrne declined offers to tour because of the $10,000 to $15,000 cost of a one-month trip.
Now she and her agents can use royalty data from Kobalt to plan. After London, Berlin and Paris are next, in part because streaming data reveal she has fans in Germany and France.
"I want to be in control of how my music is released and how I create it," Byrne said. "What people don't talk about when they talk about major labels is how many artists get dropped or funding gets dropped when they don't recoup quick enough. I never experience that with Kobalt. I was given complete freedom and autonomy."
— With assistance by Mark Bergen
Before it's here, it's on the Bloomberg Terminal.
LEARN MORE