business
The Olive Garden Is Building Its Comeback Around Shrimp Scampi
By
Dish with 500 calories overtakes Chicken Alfredo as No. 1

Stock soars after Olive Garden helps fuel better results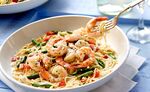 Olive Garden, an Italian chain long known for artery-clogging dishes loaded with cheese and oil, is forging a comeback with a surprising dish: shrimp scampi.
The entree, which has just 500 calories, became the best-selling option at the restaurant this month. The previous No. 1, Olive Garden's chicken Alfredo, checked in at 1,480 calories -- more than half the recommended amount for an entire day.
The Darden Restaurants Inc.-owned chain has revamped its menu to adapt to shifting consumer tastes, including a greater focus on cutting calories. The changes have helped revive a brand that suffered years of stagnant sales and came to represent the decline of U.S. casual-dining establishments.
Olive Garden's same-store sales -- a key benchmark -- grew 1.4 percent last quarter. That beat the 0.4 percent gain predicted by analysts, according to Consensus Metrix. And Olive Garden outpaced most other chains owned by Darden, including LongHorn Steakhouse and Capital Grille. Darden agreed to acquire Cheddar's Scratch Kitchen on Monday for $780 million, though Olive Garden remains its flagship division.
The results helped send Darden shares on their biggest rally in more than three years. The stock soared as much as 9 percent to $82.36, reaching a record high.
"Olive Garden continues to gain significant market share," Jake Bartlett, an analyst at SunTrust Robinson Humphrey, said in a report. More aggressive pricing and promotions also have helped boost the chain, he said.
Flavor Focus
Shrimp scampi, a staple of healthy-eating cookbooks, became the top dish at Olive Garden after a menu overhaul in January. The restaurant wanted to better highlight lighter fare under its Tastes of the Mediterranean banner.
But the dish was devised with taste in mind, and not just the calories, said Jennifer Arguello, Olive Garden's vice president of brand marketing. The entree is made with sauteed shrimp, asparagus, tomatoes and angel hair pasta.
"We started talking about the flavors first and the taste first," she said.
Olive Garden's turnaround effort was born during one of the most combative board fights in corporate history. Activist investor Starboard Value led a proxy battle against Darden in 2014 and replaced every director at the Orlando, Florida-based company. Since then, Olive Garden has rolled out a back-to-basics menu and revamped its kitchen operations.
The changes haven't all moved in the direction of healthier eating: Olive Garden still offers $11.99 pasta dishes with free refills, letting customers gorge themselves on as many carbohydrates as they like. It also has an annual promotion that allows diners to pay $100 and eat unlimited pasta for seven weeks.
Share Gain
Olive Garden's 10th straight quarterly sales gain helped fuel Darden's latest earnings, which topped analysts' estimates on Monday.
Many of Olive Garden's rivals, meanwhile, are suffering. Applebee's domestic same-stores sales plummeted more than 7 percent in the most recent quarter. At Ruby Tuesday Inc., management is considering a buyout after a prolonged sales slump.
Olive Garden's menu changes "have been pretty core to getting people to come in," said Jennifer Bartashus, an analyst at Bloomberg Intelligence. "They definitely are kind of a bright spot in casual dining right now."
Before it's here, it's on the Bloomberg Terminal.
LEARN MORE