U.S. Arrests Top Turkish Banker in Iran Sanctions Probe
By and
Halkbank deputy CEO taken into custody at JFK airport

Mehmet Hakan Atilla allegedly helped to break Iran sanctions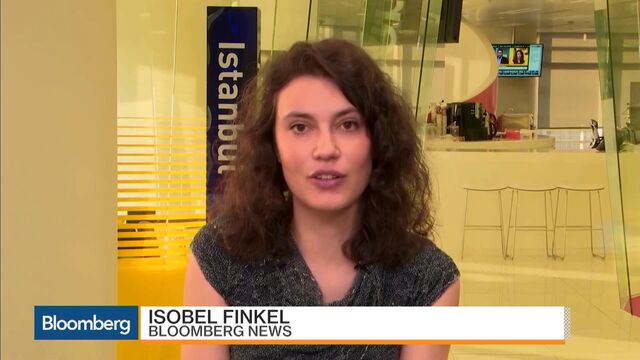 A senior executive at one of Turkey's largest state-owned banks was arrested in the U.S. on charges of conspiring to evade trade sanctions on Iran, escalating a case that has prompted diplomatic tensions and political maneuvering between the two countries.
Mehmet Hakan Atilla, a deputy chief executive officer at Turkiye Halk Bankasi AS, is accused of conspiring with Reza Zarrab, an Iranian-Turkish gold trader, to launder hundreds of millions of dollars through the U.S. financial system on behalf of Iran and its companies.
Atilla was taken into custody Monday night, a prosecutor told a magistrate judge at a hearing on Tuesday. Atilla didn't enter a plea or make any statements during the brief court appearance and was ordered held without bail. The bank's shares plummeted on Tuesday in Istanbul.
Zarrab has close ties to the administration of Turkey's president, Recep Tayyip Erdogan, who raised the gold trader's arrest with former U.S. Vice President Joe Biden last year and accused the U.S. of ulterior motives in bringing the case.
Atilla's detention comes at a delicate time in U.S.-Turkish relations. Turkey is historically one of the West's strongest allies in the Middle East. But Zarrab's arrest and divergent strategies over Syria's civil war and its fallout have strained relations between the U.S. and Turkey.
Turkey's economic minister, Nihat Zeybekci, criticized the way U.S. arrested Atilla.
"At the very least, if there was a situation like this, they could have shared it with Turkey in advance," Zeybekci said in an interview with Bloomberg. The banker "could have been invited to testify," he said.
Foreign Minister Mevlut Cavusoglu said he would raise the issue in a meeting with U.S. Secretary of State Rex Tillerson in Turkey on Thursday. Tillerson is spending a day in the capital Ankara, where he has already met with Turkish President Recep Tayyip Erdogan as he seeks to shore up support from a crucial NATO ally in the fight against Islamic State in Syria and Iraq.
Halkbank said in a public filing to the Istanbul stock market on Wednesday that it had launched an investigation in conjunction with Turkish authorities and that information about the case would be shared with the public as it becomes available.
The lira weakened as much as 1.2 percent after Bloomberg first reported the arrest.
False Documents
Atilla is accused of protecting and hiding Zarrab's ability to provide access to international financial networks, according to the complaint filed in the U.S. Zarrab is suspected of providing gold and currency to Iran through the bank, while creating false documents to make the transactions appear to be food so they would fall within humanitarian exceptions to the sanctions law, according to the court papers.
The U.S. relies on wiretapped conversations involving Zarrab, Atilla and several informants, who aren't named, to support its case against the banker, including Zarrab's reference to the allegedly fake food shipments.
"Do you know what's stirring the pot?" Zarrab asked one of the confidential informants in a 2013 phone conversation, according to the U.S. "The document you turned in. They wrote Dubai as the origin of the wheat. The man says wheat doesn't grow in Dubai."
Zarrab's Lawyers
Zarrab has hired almost 20 of New York's elite white-collar criminal defense lawyers to represent him -- including former New York Mayor and U.S. Attorney Rudy Giuliani, and Michael B. Mukasey, the former U.S. attorney general. On Tuesday, U.S. District Judge Richard Berman scheduled a hearing for April 4 and asked defense lawyers to explain Giuliani and Mukasey's role in the case.
Prosecutors claimed the hiring of Giuliani and Mukasey might present a conflict of interest because their firms also represent some of the banks alleged to be victims in Zarrab's case.
Mukasey's son, Marc, has been widely speculated as a candidate to become the New York U.S. Attorney under Trump, after the firing of Preet Bharara earlier this month. Prosecutors said in a court filing Monday that Giuliani and Mukasey were hired to try to reach a settlement in the case, though neither will be involved in court proceedings.
Bharara led the investigations of Zarrab and Atilla. His firing brought relief to members of the Turkish government and caused a jump in the shares of Halkbank. Cavusoglu on Wednesday accused Bharara of ties to Fethullah Gulen, a U.S.-based preacher Erdogan accuses of orchestrating the failed July 15 coup.
Royal Holdings
Zarrab, owner and operator of Royal Holdings A.S., is accused of using his multibillion-dollar network of companies in Turkey and the United Arab Emirates to induce U.S. banks to process transactions for Iran's benefit.
The U.S. has said it has evidence that Zarrab paid millions of dollars in bribes to Turkish government officials and top executives at Halkbank, which allegedly helped Zarrab process the payments.
Zarrab was a key figure in a 2013 scandal, in which Turkish prosecutors accused him of bribing the country's cabinet ministers in a gold-trading operation worth at least $12 billion, a charge he denied. Erdogan called the investigation a coup attempt, and all charges against Zarrab and members of his administration were eventually dropped.
Suleyman Aslan, the former CEO of Halkbank, was among dozens arrested as part of a December 2013 probe into gold smuggling, money laundering and bribery in government tenders. Aslan was taken into custody after police raided his home and found $4.5 million stuffed into shoe boxes -- money the CEO said was intended as "charitable donations."
He was later released and charges were dropped, as they were against all the suspects. The prosecutors who brought the charges were either arrested, sacked or fled. While there were no charges against Atilla at the time, Turkish prosecutors cited transcripts of his conversations with Zarrab as evidence against him.