markets
Dow-DuPont Shows How Innovation Is EU's New M&A Battleground
By
EU cites reduced innovation as potential reason to block deals

Agrochemical tie-up won approval after tough remedies package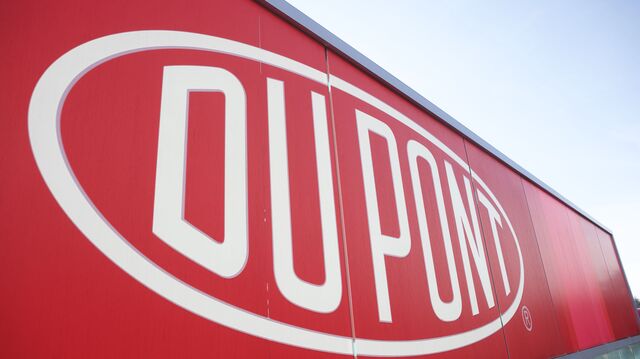 Dow Chemical Co. and DuPont Co.'s success at converting smart ideas in the laboratory into products used by farmers across the world was nearly their undoing when European Union regulators started poking around their proposed multibillion-dollar merger.
The bloc has been pushing to encourage investment in research and development as part of its political agenda, and EU merger watchdogs have taken up the cause as well, trying to ensure M&A doesn't obstruct the pipeline of potential new products before they see the light of day.
"We've now got remedies that focus on the brains behind things, not just what's being created," Jacques Derenne, a lawyer at Sheppard, Mullin, Richter & Hampton in Brussels, said in an interview. "That's the trend. The EU wants to make sure that mergers don't end up stifling the creations of innovators."
Dow's merger with DuPont, announced a year ago, is the first to win EU approval out of a trio of mega-deals that would reshape the global agrochemicals industry -- and where the risk to innovation is at the heart of antitrust scrutiny.
'Specific Evidence'
To clinch EU approval for the tie-up, DuPont promised to sell a large part of its existing pesticide business, including R&D activities and personnel. The European Commission said they found "specific evidence" that the pair would have cut back on the amount they spent on developing products.
Innovation has become "so important" for future competition "because the viability of the product line depends on your ability to keep on innovating," Margrethe Vestager, the EU's antitrust chief, told reporters Monday.
Vestager said preserving innovation in the global agrochemicals industry is of paramount importance. "This is literally a question about our daily bread and the ability for farmers to use different seeds, different pesticides in order to secure their crops," she said.
The commission is poised to announce its decision on China National Chemical Corp.'s agreement to buy Syngenta AG as soon as this week. Next in line will be Bayer AG's plan to buy Monsanto Co., which has yet to be formally notified to regulators for approval.
EU merger investigators "want to make sure there's innovation competition, that there's enough innovation players out there to maintain innovation-based competition," Syngenta Chief Executive Officer Erik Fyrwald said in an interview with Bloomberg on Monday. "I think all that's correct," he said. "As we make decisions on what we might acquire," the EU "has to continue to ensure that healthy price and innovation competition is in place."
Sharpened Focus
Although the whirlwind of agrochem deals has seen a sharpened focus on innovation, it's not a totally new issue.
EU regulators are concerned that technology companies might risk competition when they snap up smaller rivals that create innovative products. Officials have suggested ways to examine more takeovers of small companies with low revenues but valuable intellectual property. Such a move could embroil deals that now escape EU reviews in technology or the pharmaceutical industry.
Innovation was already at the heart of a deal Vestager approved during her very first month in office in 2014 as Medtronic Inc. agreed to sell not only a medical device Covidien Plc was developing but also the brains behind it to win the EU approval for its $42.9 billion purchase.
For the review of General Electric Co.'s Alstom SA deal, innovation also "played a large role," Vestager told reporters Monday, with agreed sales in 2015 of gas-turbine technology to an Italian rival as well as test facilities for the turbines and R&D engineers.
Product Pipeline
Previously, the commission would have tried to examine the product pipeline to predict what could potentially be marketed in two or three years, Gavin Bushell, a lawyer at Baker & McKenzie in Brussels, said in a post on the Kluwer Competition Law Blog this month. That's changing as the EU looks at less developed ideas much further away from possible fruition.
"It's like the high school athletics coach being forced to take a tour of the maternity ward to select her next best sprinters," Bushell said in the blog. With the Dow-DuPont deal, the EU may have gone one step further, developing a non-product-specific "innovation competition" theory, he said.
"The poor coach is being asked to bless (or not) the engagement of a couple who may -- one day -- have a child, who may take to athletics, and may become a sprinter," according to Bushell, who declined to comment further.
— With assistance by Aoife White, Stephanie Bodoni, Alice Baghdjian, Nikos Chrysoloras, Sara Forden, and Heather Smith
(
Updates with details of EU focus on technology companies in 11th paragraph.
)
Before it's here, it's on the Bloomberg Terminal.
LEARN MORE