Trump Wants Ex-'Apprentice' Contestant's Suit Tossed
By
Summer Zervos filed defamation suit days before inauguration

Trump says U.S. Constitution bars state court lawsuits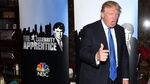 President Donald Trump said a defamation lawsuit filed in New York by a former "Apprentice" contestant days before he took office should be thrown out because the U.S. Constitution bars state court suits against him.
The president said in a filing that the court should follow procedure requiring it to "show deference" to him and his schedule and should quickly resolve the issue of immunity to "spare him the burden" of defending the suit.
The suit is one of several facing the president, many filed before he took office, targeting his various businesses. While he settled lawsuits by students at his defunct Trump University, he continues to battle cases involving former chefs at his hotel in Washington and onetime club members at a Florida golf course.
Summer Zervos sued Trump in January accusing him of lying last year when he denied allegations he "ambushed" her with unwanted sexual touching on several occasions. In a filing Monday, Trump said the Supremacy Clause of the U.S. Constitution bars him from having to defend against suits filed in state court.
Trump asked a New York state judge to follow procedures and decide the issue of immunity first, as was done in a sexual harassment suit filed against former President Bill Clinton by Paula Jones. In the Jones case, the U.S. Supreme Court ruled her lawsuit could proceed because Clinton didn't have a broad constitutional right to postpone the case until he left office.
Defense Burden
Procedure requires "immunity issues to be resolved first," Trump said in his filing. "Immunity does not just insulate a defendant from liability, but spares him or her from the burden of defending against a lawsuit in the first place."
Zervos, who appeared on the show in 2005, went public with her allegations after Trump denied engaging in sexual misconduct during an October presidential debate. Trump insisted he had never "greeted her inappropriately" and said that Zervos' claims and similar ones by other women were fictional events that never happened. His comments followed the public release of an audio recording where he bragged about such activity.
Gloria Allred, an attorney for Zervos, said Trump doesn't have legal immunity from the lawsuit, which alleges wrongdoing while he was a presidential candidate.
"Summer seeks vindication of her rights and reputation for what her lawsuit alleges was personal misconduct by then candidate Trump prior to his having been elected to the office of President of the U.S.," Allred said in an email.
The case is Zervos v. Trump, 150522/2017, New York State Supreme Court, New York County (Manhattan).
Before it's here, it's on the Bloomberg Terminal.
LEARN MORE