Here's How the U.K. Will Serve the EU With Divorce Papers
By
Photo of May signing letter at her desk makes the front page

U.K.'s Article 50 notification starts two years of exit talks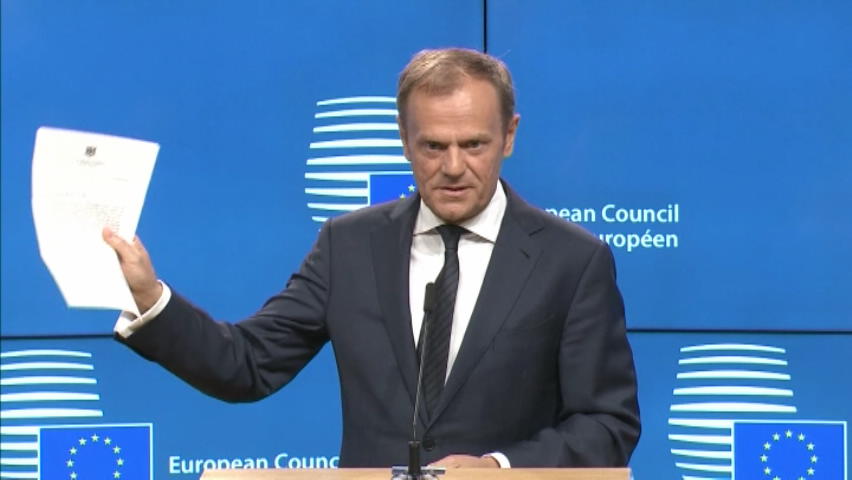 Follow @Brexit for all the latest news, and sign up to our daily Brexit Bulletin newsletter.
A letter personally signed by U.K. Prime Minister Theresa May, so secret not even some of her senior ministers have seen it, crossed the English channel on Wednesday morning.
It arrived in the Belgium capital marked for the attention of Tim Barrow, Britain's envoy to the European Union, who was seen entering the European Council headquarters for a meeting of ambassadors of EU governments to Brussels. He's expected to hand the letter to EU Council President Donald Tusk at around 1:20 p.m local time, a moment that will mark the U.K.'s official notice of leaving its partner of four decades. Tusk will respond with a press statement at 1:45 p.m., according to his office.

With the flick of her pen, May signed the letter on Tuesday evening at the Cabinet table in her Downing Street office, with a Union Jack flag behind her. In a few hours, she will address the House of Commons.
"When I sit around the negotiating table in the months ahead, I will represent every person in the whole United Kingdom – young and old, rich and poor, city, town, country and all the villages and hamlets in between," May will tell lawmakers, according to extracts distributed by her office. "It is my fierce determination to get the right deal for every single person in this country."

The instant the letter exchanges hands, the invocation of Article 50 of the EU's Lisbon Treaty triggers two years of negotiations to secure Britain's split from the bloc. May herself considers it "one of the most important documents" in Britain's recent history.
See You Later
"It's the moment that the U.K. acts upon the outcome of the referendum," said Anand Menon, Director of the U.K. in a Changing Europe program based at King's College London. "It's very symbolic for Europe, too: four days after they've celebrated the 60th anniversary of the Treaty of Rome, one of the large member states has said 'actually we've had enough, see you later."'
May chaired a special breakfast meeting with her Cabinet earlier on Wednesday. At noon she'll take part in her weekly question-and-answer session with lawmakers. She will then give the statement on Article 50.
As for the contents, they'll cease to be secret once May is done speaking in Parliament. Then everyone will discover them and Brexit will be truly underway.
Before it's here, it's on the Bloomberg Terminal.
LEARN MORE