markets
Why the Bank of Japan Needs a Fed-Style Dot Plot
By , , and
Rate outlook could be similar to Fed's dot plots, fan charts

Should cut fiscal 2017 CPI outlook to around 1%, Momma says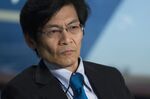 The Bank of Japan should adopt rate guidance to improve its communication with the market and give clearer signals on the direction of borrowing costs, said a former executive director and chief economist.
Poor communication led to the recent confusion over the BOJ's bond purchase program and its commitment to keeping the 10-year yield around zero percent, said Kazuo Momma, an economist at Mizuho Research Institute who left the central bank last year. The BOJ should include short- and long-term interest rate forecasts in its quarterly outlook report, similar to the Federal Reserve's dot plot or fan chart, though it needn't disclose individuals' views.
"If the BOJ can provide a yield outlook that it deems consistent with growth and consumer price index forecasts, it will help deepen the markets' understanding," Momma said in a March 24 interview. "Markets have a hard time predicting the BOJ's future policy, especially with a CPI forecast they don't trust. It's important the BOJ clearly communicates what it thinks is an appropriate yield curve, which will help it control short- and long-term rates."
Japanese government bonds sold off in February amid uncertainty over how high the BOJ will let long-end rates rise under the current framework to keep the 10-year yield around zero percent. The central bank, which has a short-term interest rate policy of minus 0.1 percent, has been aggressively buying government bonds in the secondary market to meet a 2 percent inflation goal.

Momma said the BOJ should lower its 1.5 percent inflation projection for fiscal 2017 starting next month to be closer to private forecasts of around 1 percent, as the huge gap is contributing to mistrust among market players about the bank's perception of an appropriate yield curve.
The BOJ will release its next quarterly price and growth outlook at the April 26-27 policy meeting. Consumer prices excluding fresh food rose 0.1 percent in January from a year earlier. Economists are forecasting a 0.8 percent rise in core CPI for 2017 and a 1 percent gain for 2018, according to Bloomberg data. The BOJ's forecast for fiscal 2018 is much higher at 1.7 percent.
"There is very little risk that a lower price forecast may spark concerns about the BOJ's easing stance,"' Momma said. "The BOJ can keep a strong commitment to the 2 percent price target while making an objective and unbiased assessment in its forecast, which will help form a constructive communication environment with markets over the longer term."
The BOJ's balance sheet has ballooned to over 90 percent of gross domestic product almost four years into an unprecedented bond buying program. That's the highest ratio among major central banks and raises concerns about the sustainability of the measure. Governor Haruhiko Kuroda has declined to discuss the end of the program, but Momma said this was another area of communication the central bank ought to address.
"The BOJ should seriously think about the accountability of its views on the future of its balance sheet, its evaluation and how it will explain losses that arise," he said. "Clarifying these doubts strengthens the effectiveness of short- and long-term interest rate control."
(
Adds details, comments on BOJ balance sheet in last two paragraphs.
)
Before it's here, it's on the Bloomberg Terminal.
LEARN MORE