Australia Shelves Plans to Ratify Extradition Treaty With China
By
Decision comes days after state visit by Premier Li Keqiang

Treaty has been in limbo without ratification since 2007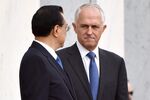 Australian Prime Minister Malcolm Turnbull shelved plans to ratify an extradition treaty with China, after lawmakers raised questions about the country's justice and human rights records.
Foreign Minister Julie Bishop said in a statement on Tuesday that Turnbull withdrew the treaty after opposition leader Bill Shorten said his bloc wouldn't support ratification this week. Sky News earlier reported the prime minister realized the resolution faced defeat in the Senate.
The move comes days after a state visit to Australia by Chinese Premier Li Keqiang, who said he respected the nation's choices in foreign policy. Tensions between the trading partners rose when Bishop used a speech in Singapore earlier this month to say democracy was crucial for nations to reach their economic potential, and called on China to be a responsible global player.
Eric Abetz, a lawmaker with Turnbull's own Liberal-National coalition, said in a statement that he welcomed the move to withdraw ratification "given China's poor track record on human rights and natural justice."
Independent Senator Cory Bernadi said in an Australian Broadcasting Corp. interview on Tuesday that he opposed the treaty because China doesn't have "an open and transparent legal system."
Keep Negotiating
Bishop said the ruling coalition would continue to negotiate with the opposition. While the treaty has been in limbo since being arranged by then-Prime Minister John Howard in 2007, extraditions between the nations have proceeded since then, Trade Minister Steven Ciobo said in a Sky News interview on Tuesday.
It's not known if current cases of Australians being held by Chinese authorities will be affected by Turnbull's decision. A group of Crown Resorts Ltd. employees -- including at least three Australian citizens -- have been detained in China since October for alleged gambling-related crimes, while the New York Times reported on Monday that a Chinese-born professor at an Australian university, who has criticized Beijing's crackdown on political dissent, has been barred from leaving the city of Guangzhou.
China has captured 2,566 fugitives who fled to more than 90 countries and regions -- recovering about $125 million -- as part of its "Sky Net" campaign between 2014 and 2016, the official Xinhua News Agency said Saturday.
Before it's here, it's on the Bloomberg Terminal.
LEARN MORE