Your Evening Briefing
Here are today's top stories for Europe.
Bloomberg News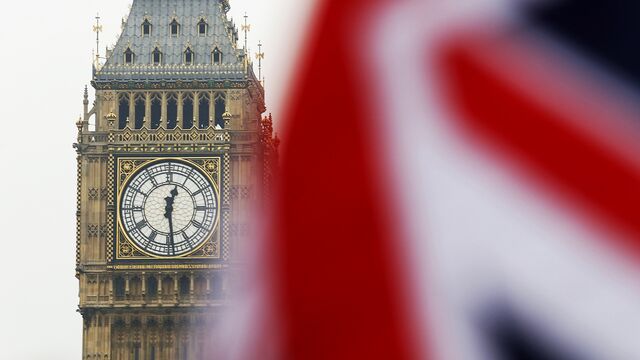 The evening briefing will soon be available in your inbox every day. Sign up here.
It's a big week for the U.K. and Prime Minister Theresa May, who is expected to officially trigger Article 50 on Wednesday and begin the exit process from the European Union. Will the U.K. be better or worse off? Bloomberg has launched a Brexit barometer that tracks the economic health of the country. The week got off to a good start: Qatar promised to invest £5 billion in the U.K. over the next five years, and Siemens said London remained important for Europe's biggest engineering firm. Despite that, May's team is showing concerns that the prime minister hasn't done enough to win over European counterparts.
— Siraj Datoo
More euro risk. The euro could tumble to a 15-year low if Marine Le Pen wins the upcoming French presidential election, economists say. If Le Pen wins, they predict an immediate drop similar to the pound's quick fall after the Brexit referendum. But a survey of economists expect her to lose. Elsewhere, the National Front leader compared key rival Emmanuel Macron to Jean-Claude Van Damme. Really.
All talk on oil cuts? Ministers from oil-producing countries met in Kuwait over the weekend and signaled they were willing to extend a production cut beyond June, when the current pact expires. But traders were skeptical, and oil futures fell as much as 1.7 percent. OPEC and other major producers agreed last year to slash output, spurring a price rally that's now stalling as U.S. supplies grow. Russia says it needs more data before it agrees to extend the cuts.
Snap's crackling. The maker of Snapchat is enjoying a sudden rush of love from sell-side analysts with major banks issuing "buy" or "neutral" ratings on the newly listed stock. Snap stock has recently dipped to $23 a share, after popping up to $27 a share from its opening price of $24.
Fancy a £1,500 night in London, with no room service? Frustrated after watching their properties languish on the market, luxury-home owners in London are turning to short-term rental companies such as Airbnb and brokers like Xenyos to keep up their cash flow. London Mayor Sadiq Khan has warned lawmakers that the rise of short-term rentals could make it harder for regular Londoners to find affordable homes to live in full time. The number of London properties listed on Airbnb almost doubled in a year to 50,000 at the end of 2016, according to data compiled by broker Jones Lang LaSalle Inc.
Tackling a condom-buying taboo. In conservative India, there's a major stigma surrounding condom-buying. It's considered inappropriate to even talk about prophylactics, let alone advertise them. Reckitt Benckiser Group wants to bust that taboo with a new product line called "Durex Jeans," sold in packaging resembling leather badges that are sewn onto denim.

These cars are most likely be valuable in the future. Physical looks alone won't guarantee that a car will become collectible. Power, drivability and performance are crucial factors in propelling a car to a decent value 30 years from now, according to experts who insure collectible cars for a living. If you're looking to build a four-wheel fortune, these 14 vehicles from 2017 are a good place to start.
Before it's here, it's on the Bloomberg Terminal.
LEARN MORE