Your Evening Briefing
Here are today's top stories
Bloomberg News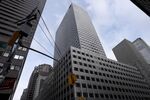 The evening briefing will soon be available in your inbox every day. To be among the first to get it, sign up here. 
China's wealthy are scrambling to apply for U.S. immigrant investor visas as members of Congress debate raising the minimum amount required from $500,000 to $1.35 million. China's wealthy, using not-always-legal means to skirt capital controls to get their money out, are continuing to dwarf all others as the largest participants in the EB-5 visa program. And where does that cash end up? The money is channeled to high-profile U.S. real-estate projects across the country, including those by the family of Jared Kushner, Donald Trump's son-in-law and senior adviser. The family is currently seeking $850 million in EB-5 funding to refinance and reconstruct its New York office building at 666 Fifth Avenue. —Kristine Servando
One of the most striking things about China Huishan Dairy's 85 percent nosedive on Friday was just how little it surprised market observers in Hong Kong. The crash, the trading halt, hours without a company statement: all too familiar for traders who've had to navigate at least three similar episodes in the past two years. Fallout from the collapse started to spread today, with Jilin Jiutai Rural Commercial Bank shares slumping 11 percent amid concern about its exposure to the dairy-product manufacturer.
An unlucky start for Hong Kong's new leader. The laughter accompanying the announcement of Carrie Lam's victory signaled the city's first female chief executive may not have much of a honeymoon period. Her vote total of 777 — the leader is chosen by 1,194 business and political leaders — was immediately seized upon as a nickname to deride the election process. In Cantonese, "seven" sounds like an expletive sometimes used to refer to an impotent person.
Trump wants to reverse Obama's climate change efforts. The U.S. leader, who has called climate change a hoax, is set to sign a sweeping executive order aimed at promoting use of domestic oil, coal and natural gas. Among the policies in the crosshairs are limits on greenhouse-gas emissions from power plants, a requirement for companies to disclose the chemicals they pump underground and a directive making climate change a consideration in federal rule-making.
How to tackle a condom-buying taboo. In conservative India, there's a major stigma surrounding condom-buying, with the promotion and discussion of prophylactics considered to be inappropriate. Reckitt Benckiser Group wants to bust that taboo with a new product line called "Durex Jeans," sold in packaging resembling the leather badges sewn on denim and displayed in jar-like bowls on drugstore counters.
Thailand's election wait just keeps getting longer. The current stretch of army rule has been the longest since the early 1970s, and there are few signs it will end anytime soon. Junta leader Prayuth Chan-Ocha seized power in 2014, and the timetable for elections repeatedly has been pushed back. Lawmakers say early next year is likely, while a spokesman for the junta floated the possibility of September 2018.
Indonesia's stock traders are the envy of Asia when it comes to days off. The stock market will close for public holidays for 20 days this year — the most among Asia's largest markets. Australians face a punishing stretch by comparison, with just eight public holidays.
These cars are most likely be valuable in the future. Jarring physical looks alone won't guarantee that a car will become collectible. Power, drivability and performance are crucial factors in propelling a car to a decent value 30 years from now, according to experts who insure collectible cars for a living. If you're looking to build a four-wheel fortune, these 14 motors from 2017 are a good place to start.

Before it's here, it's on the Bloomberg Terminal.
LEARN MORE