markets
World Chess Federation Says Its President Resigned. He Denies It
By and
Ilyumzhinov says 'the Americans are behind this escapade'

FIDE has called a meeting for April to address the situation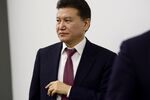 The big news out of the World Chess Federation meeting in Athens was the resignation Sunday of longtime, controversial president, Kirsan Ilyumzhinov. But, like most things related to Ilyumzhinov, it's turning out to be a bit more complicated.
A day after the reports of his resignation, Ilyumzhinov denied the federation's claim that he had stepped down and accused the U.S. of trying to engineer his ouster.
In a statement on its website, the federation said Ilyumzhinov had submitted his resignation on March 26. The group's presidential board has scheduled a meeting in April to discuss the situation, the statement said. Press spokeswoman Nastja Karlovich confirmed the statement in an email to Bloomberg News but declined to provide details.
However, Ilyumzhinov spokesman Berik Balgabaev told Bloomberg News that the statement was "fake news." Ilyumzhinov attended the Athens meeting, Balgabaev said, "but he never gave any resignation, and he never intends to do so."
Ilyumzhinov, a Russian national who has headed the federation since 1995, has been under U.S. sanctions since 2015 for allegedly doing business deals to aid Bashar Al Assad's regime in Syria, an accusation he denies. In a March 27 interview with Russian news agency TASS, Ilyumzhinov said that the chess federation, known by its French acronym FIDE, "wanted to oust me, but they could not pull it off. I believe the Americans are behind this escapade and it looks like a set-up."
The 54-year-old businessman and onetime Russian politician has long been a divisive figure in the chess world. Critics say he has used FIDE to advance his personal interests while cultivating relationships with dictators including Assad, Muammar Qaddafi and Saddam Hussein. He also has maintained that he was abducted by space aliens.
After being placed under U.S. sanctions, Ilyumzhinov said he would step aside from day-to-day management of FIDE but continued to play a prominent role and travel widely at the organization's expense. Sanctions prevented him from attending the Nov. 2016 World Chess Championship in New York City, won by Norway's Magnus Carlsen.
Before it's here, it's on the Bloomberg Terminal.
LEARN MORE