Brexit Set to Begin With Fewest U.K. Civil Servants Since 1940s
By
Civil service is now at its smallest since before World War II

U.K. hasn't negotiated a trade deal alone in four decades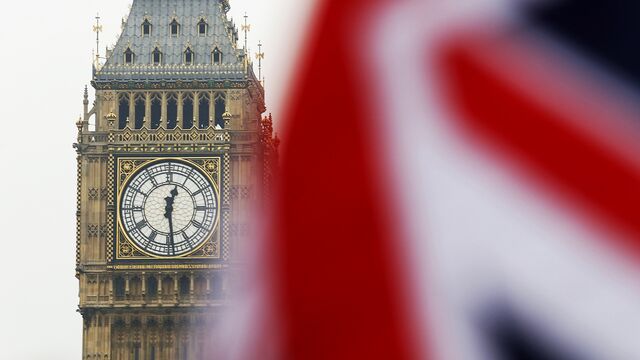 Follow @Brexit for all the latest news, and sign up to our daily Brexit Bulletin newsletter.
U.K. Prime Minister Theresa May will go into the political battle of a lifetime with the smallest army of civil servants since the 1940s, forcing her into a talent drive to deliver Brexit.
With fewer than 400,000 mandarins on hand, the British state needs to divorce from the European Union and forge a new trading relationship with its biggest market. It must also strike commercial deals with other nations, transpose European laws into British ones and create new regulatory bodies and systems for policing immigration and managing customs. And that is just for starters.
Read more: Brexit Will Test U.K. Civil Servants to the 'Limit', Study Says
Such demands on top of the day-to-day requirements of keeping the nation safe, collecting taxes and providing healthcare leave the nation's top civil servant, Jeremy Heywood, acknowledging that "the challenge of Brexit has few, if any, parallels in its complexity."
The question is whether a bureaucracy shrunk by fiscal austerity can rise to the challenge as May this week triggers two years of talks with her 27 European counterparts in no mood to make life easy for a country that chose to leave them behind.
"The reality is that this can't possibly be done in two years because it's such a vast undertaking," said Catherine Barnard, professor of EU law at the University of Cambridge. "As the government turns over each individual stone, they realize that there are quite a lot of stones underneath and none of them can be dealt with very easily."

The risk of failure was underscored last week when the National Audit Office calculated there are 26 percent fewer civil servants than a decade ago, and that more than a fifth of senior posts advertised last year remain unfilled. A leaked memo by consultancy Deloitte LLP at the end of last year estimated 30,000 new civil servants were needed to cope with the workload.
Poaching Talent
Those who have been recruited often came at a cost to other areas. Brexit Secretary David Davis's department poached most of its 328 people from other ministries and the Trade Ministry transferred in all but 41 of its 1,258 officials from elsewhere in the government.
"The government is reducing staff numbers and increasing workloads," said Rob O'Neill, Assistant General Secretary of the FDA union of senior civil servants. "What is the inevitable impact of that?"
The kind of expertise needed has the government willing to pay 160,000 pounds ($201,000) to whoever it hires as its top international trade negotiator. That is more than May earns.
What's more, the U.K. hasn't negotiated a deal alone since it joined the bloc in 1973 and now must strike one not only with the EU, but in time, with the likes of China and the U.S., giant economies with plenty of experience. That might put the British at a disadvantage.

EU Machine
"The EU machine has done this lots and knows how to do these negotiations," said Joseph Owen, a researcher at the Institute for Government. "The U.K. has never really gone into much detail on these things. It's never carried a free-trade agreement in its entirety from beginning to end."
There are also domestic details to sort out. As many as 15 bills will be needed to cover different aspects of Brexit, eating up a big chunk of the typical menu of 20 or so bills announced every year, according to the London-based IfG.
The government will this week outline its plans for a "Great Repeal Bill," the main purpose of which is to convert EU law into British law, to ensure continuity in the months after Brexit.
The House of Commons Library estimated earlier in the year that there are 898 directives and 5,155 regulations among more than 19,000 rules that will need to be imported.
Among them: a series of EU programs the U.K. will be under pressure to design their own versions of or try to persuade the EU to let it remain in. Examples include Euratom, which governs nuclear cooperation, Erasmus, and the European Medicine Agency, which approves drugs.
Rules, Regulations
All told, Cambridge's Barnard estimates EU laws reference anything between 50 and 100 different authorities.
"That will require very detailed work thinking about exactly what jurisdictions, what powers these agencies have got," Barnard said. "These are all big issues, and they're also very time-consuming."
Complicating the Brexit process even further is that budget cuts have sapped the civil service of strength when it needs it most.
The Department for Agriculture, Environment and Rural Affairs is affected by 1,200 EU laws and distributes 3 billion pounds of EU money every year. Yet it has lost a third of its staff since 2010, according to the IfG.
The Home Office has lost a fifth of its operational budget at a time it needs to develop new tools to control immigration. The Migration Observatory in Oxford estimates that if all EU citizens currently living in the country applied for permanent residence, it would represent 140 years of work at current turnover rates.
Then there is the fact that the country won't run itself as Brexit drags on. May's Conservatives have manifesto commitments to meet and tackle fresh headaches such as another bid for Scottish independence.
"The future of the nation is at stake here," said the FDA's O'Neill. "The government needs to provide sufficient resources to ensure that departments are fully staffed and fully equipped in order to be able to deliver a successful Brexit for the nation. If it's not going to do that, something's got to give."
Before it's here, it's on the Bloomberg Terminal.
LEARN MORE