Trudeau's Budget Math Doesn't Add Up on Export Growth
By and
Export-growth target is lagging Canada's overall expansion

Trudeau may rival Harper for worst record on GDP since 1930s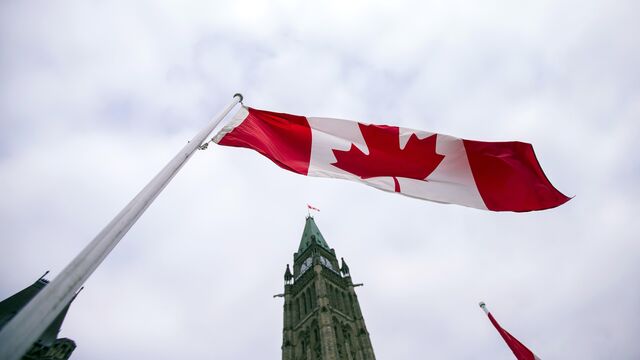 There's something peculiar with a key performance goal in Prime Minister Justin Trudeau's last budget.
In a fiscal plan released Wednesday by Finance Minister Bill Morneau, the governing Liberals outlined a new growth strategy focused on skills training and innovation, and set out "clear and ambitious targets" to gauge the success of the program. One goal is to boost exports of goods and services 30 percent by 2025.
As stated in the budget documents, the plan is to make the country a "leading center of global innovation," with "a strong emphasis on exports because of the connection between trade, and good, well-paying jobs."
A little arithmetic however (more details below) shows that, at least for this measure, there seems to be very little ambition at all.
Long-term projections of GDP from the finance department, which can also be deduced from budget figures, suggest Canada's economy is poised to grow about 40 percent by 2025 -- almost a third faster than Trudeau's export growth metric.
In other words, the target Trudeau has chosen to gauge the success of his growth plan is one that is likely to lag behind the rest of the economy, not lead it.
"It is a weak performance metric," said Kevin Page, a former parliamentary budget officer who now heads the University of Ottawa's Institute of Fiscal Studies and Democracy.

If Not Exports
Using the government's own targets, the export sector is forecast to shrink, not grow, in relative terms -- to about 29 percent of GDP in 2025, from about 31 percent today, according to Bloomberg calculations.
So, what does the budget actually reveal about how the Liberals plan to drive growth over the next eight years, if not through exports?
While it's tempting to conclude public spending will be a key driver, given the run of deficits, it's not seen as a long-term contributor of growth. In fact, the federal government may actually be a slight drag on growth within a few years.
Program expenses as a share of GDP are peaking this year at 14.5 percent, before declining to 13.8 percent in 2021, budget figures show. The deficit is projected to almost halve over that time, dropping to 0.8 percent of GDP from 1.4 percent in 2017.
What's Left?
Household consumption as a share of the economy has been hovering at the highest since possibly as far back as the 1960s, and with debt levels at records, it's also an unlikely driver of economic growth. Nor is there any indication in the budget that's what the government is hoping for.
Investment on the other hand is everywhere in the document, mentioned 360 times. That's more than double the number of references to "middle class."
To be sure, the budget uses the word as a euphemism for government spending, which explains the frequency. But the fiscal plan is indeed filled with mentions of attracting business and leveraging the private sector. It seems Trudeau is hinging his growth agenda on a revival in business investment.
Week Ahead
Bloomberg Nanos Consumer Confidence Index (Monday, 10 a.m.)
Bank of Canada Governor Stephen Poloz gives a speech at Durham College in Oshawa, Ontario (Tuesday, 9:50 a.m.) and press conference (11:10 a.m.)
Quebec budget (Tuesday, 4 p.m.)
CFIB Business Barometer (Thursday, 7 a.m.)
Industrial product prices and raw material prices (Thursday, 8:30 a.m.)
GDP and payroll employment earnings and hours (Friday, 8:30 a.m.)
Growth Redux
The one thing the budget does highlight is just how much Canada -- like most developed countries -- has entered into a low-growth world, hobbled by an aging labor force and falling productivity. 
And Trudeau, to his credit, is trying to address those two big challenges head on, with a fiscal plan that focuses on increasing labor force participation rates and innovation.
Canada is in the midst of one of its weakest ever stretches of growth, so there's some urgency to the search for alternative models. Trudeau's vision includes building an army of highly educated white-collar workers, drawn from all over the globe, closely connected to the country's world-class universities, producing exportable services in advanced high-tech industries.
Manufacturing is hardly mentioned, probably for good reason given the sector has shown no evidence of being able to mount a comeback. It comes up 12 times in last week's budget, versus 115 references in the 2015 budget.
The government has also begun to distinguish between manufacturing and "advanced manufacturing." The latter is one of key six sectors identified as growth drivers and worthy of extra help.
There's a lot at stake for Trudeau. In the run-up to the 2015 election, he emphasized boosting the nation's sluggish growth and his party criticized former Prime Minister Stephen Harper for having the worst growth record since the Depression-era prime minister R.B. Bennett, which is true.
Yet, last week's budget projects average nominal GDP growth of just over 3.5 percent through 2021, meaning at that pace the best Trudeau can hope for is to have the second-worst growth record since the 1930s after Harper, who averaged growth of just under 3.5 percent. Growth averaged more than 7 percent in the eight decades preceding the last recession.
The difference is Harper faced two global shocks to the Canadian economy during his tenure. Trudeau may be one shock away from taking Harper's slow-growth title.
Export Calculations
Here are some of the details on how the export targets are lagging the economy:
Canadian exports of goods and services were C$629 billion ($471 billion) in 2016, or 31 percent of the country's C$2.027 trillion economy.
By 2025, a 30 percent growth target for exports implies receipts of C$818 billion.
The finance department's own long-term projections show a C$2.838 trillion forecast for GDP in 2025. That would imply exports as a share of the economy would decline to just under 29 percent.
Alternatively, a low-ball growth assumption of 3.5 percent annually over the next eight years would bring GDP to C$2.763 trillion in 2025. That would imply exports as a share of the economy at 29.6 percent.
— With assistance by Josh Wingrove
Before it's here, it's on the Bloomberg Terminal.
LEARN MORE