politics
Sessions Threatens to Cut Police Money for Sanctuary Cities
By
Pledge required to provide information to deportation agents

Says 200 cities have refused to detain arrested immigrants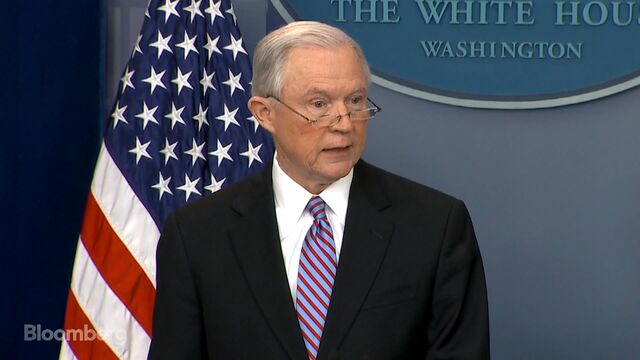 The Trump administration is attempting to crack down on so-called sanctuary cities, announcing Monday that local governments will have to certify they aren't impeding communication between their police and federal immigration authorities in order to continue receiving Justice Department grants.
The new requirement is part of President Donald Trump's campaign to strengthen U.S. immigration enforcement and focus attention on state and local governments that refuse to help federal authorities apprehend undocumented immigrants for deportation.
Attorney General Jeff Sessions said Monday that in one week about 200 states and localities refused to honor federal requests to turn over undocumented immigrants. He didn't specify the time period.
"The American people are not happy with these results," he said. "They know that when cities and states refuse to help enforce our immigration laws, our nation is less safe."
The attorney general spoke at the beginning of the daily White House briefing, as Trump tries to reset his administration following the defeat of major health-care legislation on March 24. Sessions reiterated a policy announced in an executive order Trump signed in his first week in office. That document authorized the attorney general and secretary of Homeland Security to withhold federal grants from sanctuary cities that don't help the U.S. government deport immigrants.
Sessions said the federal government also could "claw back" grants to jurisdictions refusing to work with the federal government, in addition to refusing to approve new grants.
Mayors of several leading sanctuary cities said they wouldn't capitulate to Trump.
New York Mayor Bill de Blasio said the threat "changes nothing," and the city would remain "welcoming of immigrants."
Any attempt to cut federal law-enforcement assistance "for the nation's top terror target will be aggressively fought in court," de Blasio said in a statement. "We won't back down from protecting New Yorkers from terror -- or from an overzealous administration fixated on xenophobia and needless division."
New York City officials estimate there are about 500,000 undocumented immigrants living there.
Seen as Distraction
Ras Baraka, the mayor of Newark, New Jersey, said the announcement was an attempt to distract the public from a Trump political setback.
"It is unfortunate but not surprising that the Trump administration has used the stunning defeat of their attempt to repeal Obamacare as the opportunity to pivot back, once again, to an unmerited attack on immigrant communities," Baraka said in a statement.
Still, it's not clear that the Justice Department's policy will actually take money away from cities.
Sanctuary cities often adopt rules that prohibit their law enforcement officers from asking people about their immigration status. Because that information isn't collected, it isn't available to share with the federal government.
Trump's executive order said money cannot be withheld in violation of the law or when federal dollars are needed for law enforcement.
States-Rights Argument
The city of San Francisco has already filed a federal lawsuit against the Trump administration, arguing that the executive order violates states-rights provisions of the Constitution.
Earlier this month, the Trump administration introduced its first major initiative to punish sanctuary cities -- a weekly "declined detainer outcome" report, listing jurisdictions that have refused to honor requests by immigration authorities to detain immigrants that could be subject to deportation. The reports appeared to be the source of data Sessions cited at the White House briefing.
Democrats have lambasted the list, charging that it's an attempt to shame states and local authorities that believe detention without a federal warrant presents a legal liability and runs counter to community policing.
— With assistance by Lauren Etter, Chris Strohm, and Henry Goldman
(
Updates with New York Mayor de Blasio's remarks in eighth paragraph.
)
Before it's here, it's on the Bloomberg Terminal.
LEARN MORE