business
Qatar to Boost U.S. Interests With Silicon Valley Office
By , , and
QIA committed 60% of planned $35b to U.S., added $10b in Dec.

Wealth fund still planning to invest in U.K. after Brexit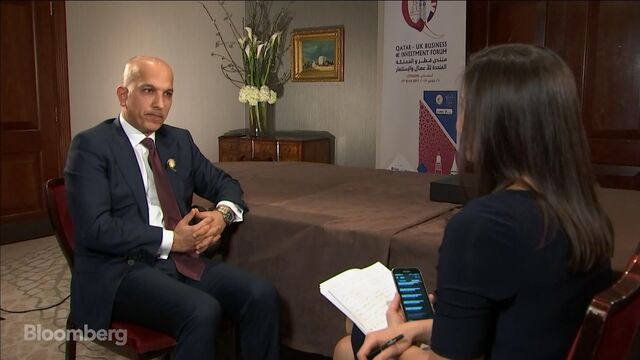 Qatar's sovereign wealth fund plans to open an office in Silicon Valley, as the richest country in the world on a per capita basis builds up technology interests to diversify away from oil and gas.
The Qatar Investment Authority will open an office in San Francisco by the end of this year or first quarter of next, Sheikh Abdullah Bin Mohammed Bin Saud Al Thani, the fund's chief executive officer, said Monday in London, where he's leading a delegation of more than 400 officials and executives. The fund has already committed 60 percent of a planned $35 billion in the U.S., and announced an additional $10 billion of funding in December, he said.
"Our aim now and in the future is to focus on infrastructure, healthcare and IT," Al Thani said, adding that the fund's plan for a Silicon Valley office -- along with Qatar's own science and technology park -- is part of the emirate's plan to transform into a knowledge-based economy. The QIA is still studying whether to invest in the $100 billion global technology fund formed by SoftBank Group Corp., he said.
The $335 billion fund, created in 2005 to handle the country's windfall from liquefied natural gas, stepped up the pace of investments as energy prices recovered, buying stakes in Turkey's biggest poultry producer, Russian oil giant Rosneft PJSC and U.K. energy company National Grid Plc.
It acquired a stake in taxi-hailing app Uber Technologies Inc. in 2014, according to a Wall Street Journal report at the time.
"The U.S. market has done extremely well, especially after Trump's election," Finance Minister Ali Shareef Al Emadi said in an interview. "But the way we are look at this is more about the U.S. economic and financial policies."
In the U.K., Al Thani said the QIA is planning 5 billion pounds ($6.3 billion) of investment over the next five years, after investing more than 25 billion pounds to date. That will deepen the countries' trade ties as the U.K. prepares to leave the European Union.
"There is pressure from my board to diversify in terms of geography and asset class, but we are still looking, even after Brexit, for opportunities," Al Thani said.
(
Updates with finance minister's comment in sixth paragraph. An earlier version of this story was corrected to show Wall Street Journal reported QIA's Uber investment and to remove incorrect amount.
)
Before it's here, it's on the Bloomberg Terminal.
LEARN MORE