Putin Endorses Serbia's Vucic in Visit Overshadowed by Protests
By and
Vucic visits as Russian police jail opposition protesters

Serbian leader says Moscow, Belgrade demos organized similarly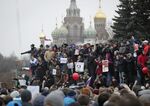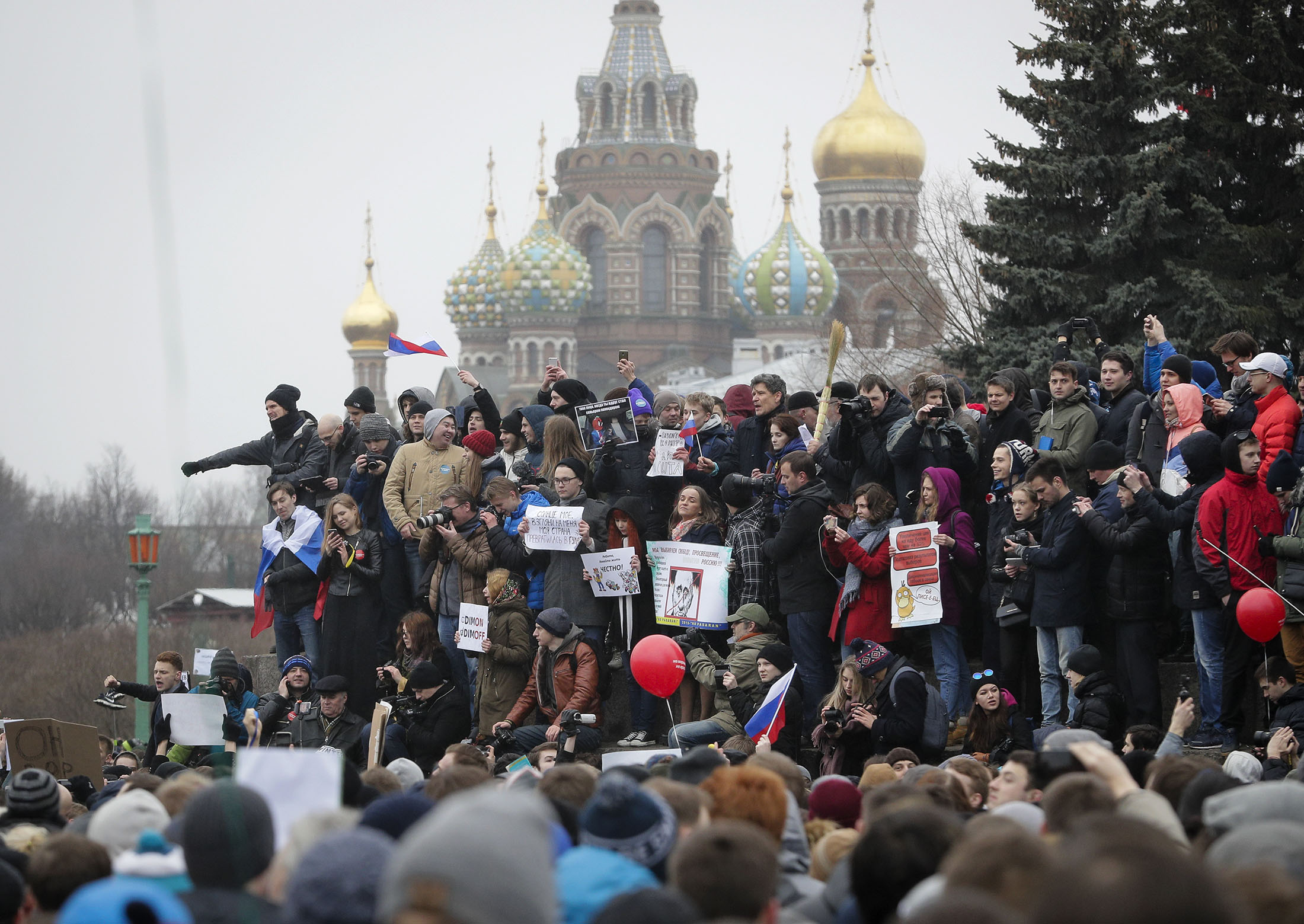 President Vladimir Putin wished Aleksandar Vucic luck before Sunday's presidential election as the Serbian prime minister blamed protests in Russia on the organizers who backed demonstrations against his government in Belgrade.
Vucic, who opinion polls show has a chance to win the presidential ballot in the April 2 first round, visited Moscow this week as opposition forces staged the biggest rallies against Putin's government in at least half a decade. After Russian authorities jailed opposition leader Alexei Navalny and other demonstrators, Vucic said the yellow rubber ducks carried by some Russian protesters showed they were linked to marches against his government, Serbian Novosti newspaper reported.
While Vucic has pledged to ready his Balkan country to join the European Union by 2020, he has also vowed to maintain strong ties with traditional ally Russia. He has particularly tapped into nationalist and anti-Western sentiment at home, holding his biggest campaign rally on Friday during the anniversary of the start of NATO's 1999 bombing campaign against late strongman Slobodan Milosevic's regime. Vucic's critics accuse him of suppressing media and the opposition warn he's pursuing a governing model similar to Putin's.
"We know that Serbia will soon hold presidential elections," Putin told Vucic, according to a statement on the Kremlin website Monday. "We are sure that in today's Serbia, in today's conditions, this election will be of the highest standard, and we wish good luck to the current authorities."
Read more about Vucic's chances in Serbia's presidential election

Opposition parties have accused Vucic of running for the presidency, a mostly ceremonial post, as a way to consolidate power and control a future government from behind the scenes. He's facing some discontent at home with slow economic progress but is by far the most popular politician against a fragmented opposition.
The biggest protests against his administration have been over the government's failure to prosecute those responsible for demolishing buildings on the Belgrade waterfront during the night of the 2016 general elections. Masked men using earth movers tore down kiosks and other buildings on the Sava River at the site of a 3 billion-euro ($3.3 billion) development backed by Vucic's cabinet and U.A.E. investors.
Vucic said the protests against him were organized by the same people as in Russia. Some activists carried yellow rubber ducks, a reference to a film by Navalny alleging Russian Prime Minister Dmitry Medvedev leads a lavish lifestyle at expensive mansions, one of which has a special house for aquatic fowl. Ducks were also carried by protesters in Belgrade.
MiG Delivery
"No doubt that the protests are being organized from the same place, because they have the same symbol as those in Belgrade," Vucic was quoted as saying by Novosti. He didn't elaborate.
The Serbian leader, who is trying to strengthen economic and defense ties with Russia, said six used MiG 29 fighter jets that Russia is giving Serbia will arrive "in a matter of days or weeks," according to Serbian television broadcaster Pink. 
Russia is ready to provide more military equipment to Serbia if needed, pro-government Belgrade newspaper Informer said on its front page Tuesday.
Relations between the two countries have a "special character" that's reflected in an "intensive pace of maintaining political dialogue at various levels," Kremlin spokesman Dmitry Peskov told reporters in a conference call on Monday.