business
ECB Seeks to Close Brexit Loopholes for Bank Branches, Dealers
By , , and
'Perfect timing' to make European banking laws Brexit-proof

Nouy eyes Basel deal when U.S. settles on Tarullo successor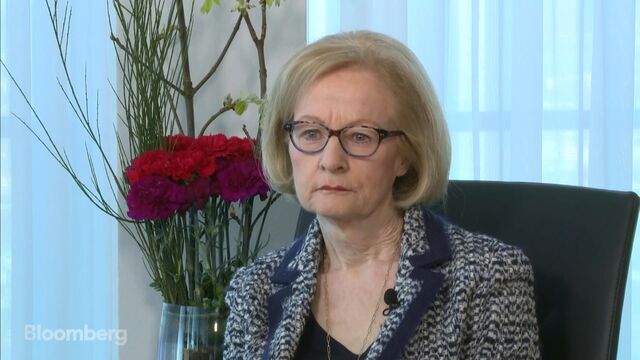 The European Central Bank needs to have the power to oversee branches of foreign lenders and broker-dealers in the euro area to avoid supervisory gaps after Brexit, according to Daniele Nouy, the bloc's head of bank supervision.
The European Union should prevent banks from exploiting Brexit for regulatory arbitrage, the strategy of playing supervisors off against each other, Nouy said in an interview in Frankfurt. The bloc's current review of its banking law provides "perfect timing" to close loopholes, she said.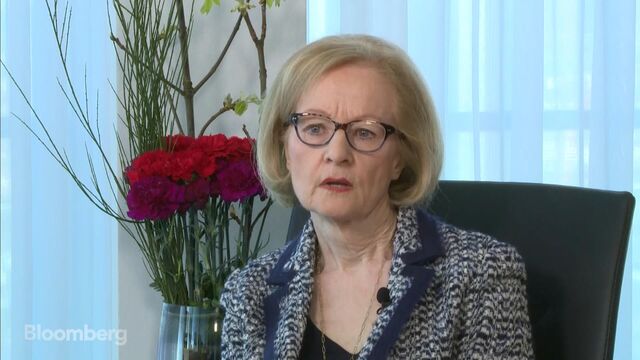 "We may receive more London-based banks operating in the SSM as well, for this passporting issue," Nouy, chair of the Single Supervisory Mechanism, said on Monday. "What would be an issue would be if certain banks are establishing through branches, as branches of third countries are supervised at the national level."
The ECB is beginning to plan for the practical consequences of the U.K.'s leaving the EU -- including licensing and supervising banking activity that had previously used London as a base to access markets right across Europe. If the outcome of talks means the U.K. loses the right to "passport" banks into the euro area, lenders may relocate some or all of their activities, posing a fresh challenge for the ECB's oversight capacity.
London could lose 10,000 jobs in banking and 20,000 in associated services as lenders move 1.8 trillion euros ($2 trillion) of assets out of the U.K. after Brexit, according to think tank Bruegel. Other estimates range from as much as 232,000 jobs to as few as 4,000.
'Race to Bottom'
Nouy's deputy, ECB Executive Board member Sabine Lautenschlaeger, told journalists that the supervisor would keep a close eye on how lenders structure their euro-area entities and would fight tendencies to water down supervision. "We will be cautious of regulatory and supervisory arbitrage, and we will not take part in a race to the bottom in that regard," Lautenschlaeger said.
In an "easy correction" to the problem, EU lawmakers could simply amend a proposal by the European Commission, the EU's executive arm, that would require third-country banking groups to pool their activities in the EU under one roof. The proposal foresees that bank subsidiaries are bundled in an intermediate holding company, and could be made Brexit-proof by requiring branches to be part of this unit, Nouy said.
ECB would also like to be able to treat some large broker-dealers as if they were banks, as is the case in the U.K. Otherwise, they would be supervised by individual countries and not by the ECB, possibly provoking a race to attract companies by offering laxer regulation.
"We need to have the same possibility in Europe otherwise they will be supervised at national level," Nouy said. "We should use the project on the table right now from the commission, to have intermediate holding companies at the level of Europe, to make sure there is no more fragmentation."
Basel Deal
The duo heading the ECB's supervisory arm said they are optimistic that regulators in the Basel Committee on Banking Supervision will soon agree on a compromise to finalize global banking rules. Nouy said a deal could be found soon after the U.S. names a successor to Daniel Tarullo, the Federal Reserve board member responsible for banking supervision who will retire next month.
"I would see as a natural milestone, a step to be taken before we can move forward, that we have the name of the replacement of Daniel Tarullo," Nouy said. "And then I guess we can work close to get things done. We are very, very close in my view."
Nouy said that stricken Italian lender Banca Monte dei Paschi di Siena SpA is still solvent, the necessary condition for the "precautionary recapitalization" through the state that Italy plans for the bank. The difficulty, Nouy added, is that ordinary retail investors own so much of Italian bank debt.
"Let me say that we have a situation in Italy where people, individuals, are putting the savings of their whole life in a single bank next door," she said. "If they are fortunate this bank is strong, if they are not fortunate this bank is not that strong. That's the situation and it has to stop."
— With assistance by Jeff Black
Before it's here, it's on the Bloomberg Terminal.
LEARN MORE