Minsheng Investment Targets Elderly Care Groups Across Globe
Bloomberg News
Chairman says plans to buy Europe's largest senior care group

Dong Wenbiao doesn't name any targets for acquisition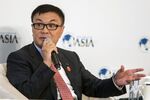 China Minsheng Investment Group, one of the country's largest private investment funds, says it is targeting senior care groups across the world for acquisition.
Chairman Dong Wenbiao said in an interview in Boao on Friday that the Shanghai-based fund is in talks to acquire the largest senior care group in Europe, and has plans to buy a separate elderly care firm in the U.S. Dong didn't name any targets for purchase, and a spokesman later declined to comment on whether the European company was Orpea, the largest European senior care provider by market value.
Orpea rose as much as 0.39 percent in early trading in Paris, reaching a record high. The company said in an e-mailed statement that it has had no talks or contact with the Chinese fund.
Dong, 59, also said that Minsheng Investment will soon buy a manufacturer of senior care products in Japan and move its production to China. He didn't identify the Japanese company.
Minsheng Investment has been looking to invest overseas since its founding in August 2014 through the merging of 59 private enterprises. The fund has bought Sirius International Insurance, has also laid out plans to enter the North American aviation market, and is looking to set up a $10-15 billion fund in Hong Kong. Its global advisory board includes leading figures such as former French Prime Minister Dominique de Villepin and former Italian premier Romano Prodi.
Dong said that one of the goals of purchasing overseas senior care companies was to bring their expertise to China.
"The senior care industry in China is virgin territory," Dong said. "Our acquisitions in Europe and U.S. are not aimed at expanding in the local market, but to bring advanced concept, brands, technology and solutions to China."
Separately, Dong said the fund was planning to buy an asset management company in London, and issue dollar bonds in Hong Kong this year.
Dong said Minsheng Investment has spent about $3 billion so far on overseas deals, and the fund's current investment return was between 10 percent and 12 percent.
— With assistance by Jun Luo, and Wenwen Zhang
Before it's here, it's on the Bloomberg Terminal.
LEARN MORE