Marine Le Pen Compares Emmanuel Macron to Jean-Claude Van Damme
France's race gets bitter as Le Pen accuses her rival of talking nonsense.
By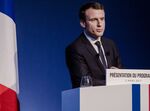 Marine Le Pen took the French election campaign to new level Sunday, likening her main rival Emmanuel Macron to a Belgian actor best known for his martial-arts exploits and his odd and vacuous sayings.
She told a rally in Lille:
"He's the Jean-Claude Van Damme of politics, because no one understands what he says or what he does."
While over the past weeks top candidates in the French race have accused each other of being corrupt and dishonest, and said their policies will spread chaos and economic destruction, they've steered clear of personal attacks. The gloves are now off — at least for the two front runners.

With polls showing Le Pen and Macron far ahead of their rivals in the April 23 first round of voting, and therefore the favorites to qualify for the May 7 run-off, they have increasingly trained their fire on each other. During a weekend visit to French overseas departments in the Indian Ocean, Macron said Le Pen "was telling lies" when she claimed she'd end illegal immigration.
Le Pen — and other candidates — has accused Macron of loosely picking policies from the left and the right, and being hazy about the details and costs of his program.
In the March 20 debate between the top five candidates, after Macron had spoken of the need for "structured partnership" with Germany and France's "secular history" with the U.S., Le Pen interrupted him, saying: 
"You spoke for seven minutes, and I can't summarize what you said, it's an utter void."
Emmanuel Van Damme?
Enter the "Muscles from Brussels."
The 56-year-old star of "Bloodsport" and "Double Impact" is well-known for his outlandish proclamations, ranging from the simple ("A woman who is pregnant, she's aware that she's expecting a child,") to the more esoteric:
"I am fascinated by air. If you remove air, birds would fall from the sky. Planes too. But you can't touch it."
Macron has hit back at claims his positions are unclear, pointing to what he says is a detailed platform on his website. He defended himself during the debate:
"Unlike you, I want a policy that's for a strong France within Europe, not made up of promises that can't be afforded."
And he looked almost satisfied March 22 when he was booed by French mayors after telling their congress he'd cut a tax used to fund local government.
"If politicians only come to tell people want they want to hear, then they aren't much use," he said.
Before it's here, it's on the Bloomberg Terminal.
LEARN MORE