Kuwait to Adopt New Equities Benchmark After Reorganizing Market
By
New market divisions set to be implemented early next year

Derivative products and exchange-traded funds should follow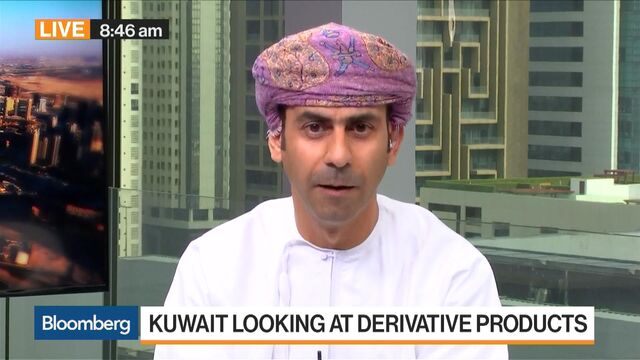 Kuwait's stock exchange will introduce a new equities benchmark next year after completing a reorganization of its listed companies into new market categories, the bourse's chief executive officer said.
Boursa Kuwait, as the exchange is known, will group companies in segments according to criteria including market capitalization and average daily traded volume as part of a program to boost liquidity and draw new investors and issuers, CEO Khaled Al Khaled said in an interview in Kuwait City on Sunday.

"We are engaging with stakeholders on a daily basis to know what are their needs," said Al Khaled, who is also the stock exchange's vice chairman. "Once all what we have planned is implemented, we will be a tough market to compete with."
Kuwait is joining Gulf neighbors including Saudi Arabia and the United Arab Emirates in upgrading and expanding equities trading to attract investors. The allocation of stocks to new categories is expected in the first quarter of next year, advancing a program to revamp post-trade and settlement systems that's already underway, Al Khaled said, citing estimates on timing from the Capital Markets Authority. Once the segmentation is in place, derivative products and exchange traded funds will be offered to local and international investors.
Seldom Traded
Kuwait's SE Price Index, the main local stock gauge, currently has 177 members, with several of them registering few days of trading in the past year. The reorganization will enable investors to select the market segment with the volume and activity levels most desirable for their needs.
Here are further comments from the interview with Al Khaled and Mohammad Al Osaimi, who is executive director for markets at Boursa Kuwait.
Al Khaled: 

"Increasing liquidity is our main goal. Am I happy with the structure that we have now? No. We are working in two parallel roots: one is regarding the development of the market, and the other one is the enhancement of the governance and the management of the company itself."
"We need to work on the market infrastructure. The market segmentation that we are introducing, the repos, the margin lending, we are working on now. We cannot do more until we introduce the market segmentation, which is tied with the development of the post-trade model. Its second phase is expected by the first quarter of 2018. Derivatives and ETF's could come after that."
"Market makers, as part of the post-trade model, is half implemented. And we have certain tools to make it succeed, which is the new tick size, and the short selling, which will be introduced later on during the first phase of the model. Short selling could be introduced by the end of May or June, for example. The final date is set by the CMA."
"We are expecting to have two new listings per year going forward. Once the market segmentation is introduced, there will be a more clear vision for companies that want be listed. If they have a proper exit scenario, they will list. If you give them all the requirements, with transparency, then I believe it will be a lucrative market to list."




Al Osaimi:

"We are talking to investors at the moment. We want to know market appetite regarding the new indices."
"We keep in mind that the local investor has some needs that have to be addressed. So, when you see our menu, hopefully in three years' time, you will see a full plate of international standard menu, with some tweaks to locals, such as shariah compliant" products
"We will have the premier market index. We are also studying to have other types of indices. We will present that in a survey that will be dispatched in the upcoming weeks to around 200 between-frontier and emerging-fund managers."
"We are also trying to push for government privatization. We are working with government entities and authorities to make these companies to be listed. So we would have diversification of companies in the local market."
Read more on plans by Gulf exchanges to attract investors:
Kuwait to Boost Bourse's Allure Amid Bid for Emerging-Market Tag
Kuwait CMA Seeks Emerging Market Inclusion, to Move to T+3 Cycle
Saudi Bourse to Allow Short-Selling, T+2 Settlement Next Month
Before it's here, it's on the Bloomberg Terminal.
LEARN MORE