markets
Evercore's Hyman Says China a Mess, Will 'Blow Up' at Some Point
By and
China has a 'ton of debt,' and it's not sustainable, he says

Hyman says U.S. also faces challenge of increased leverage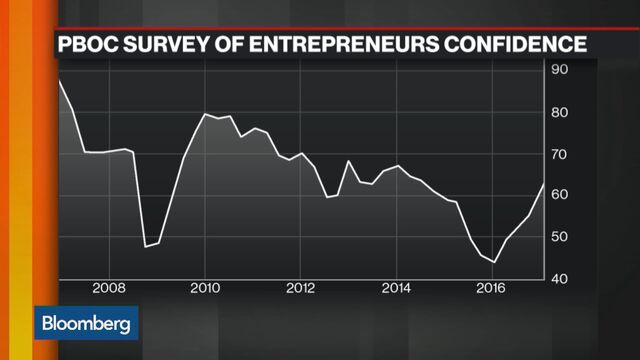 Evercore Partners Inc.'s Ed Hyman warned that rising debt levels in China are bound to eventually disrupt the nation's economy.
"China's a mess, and at some point it's going to blow up," Hyman said Monday in an interview on Bloomberg Television. "They have a ton of debt, which is unsustainable."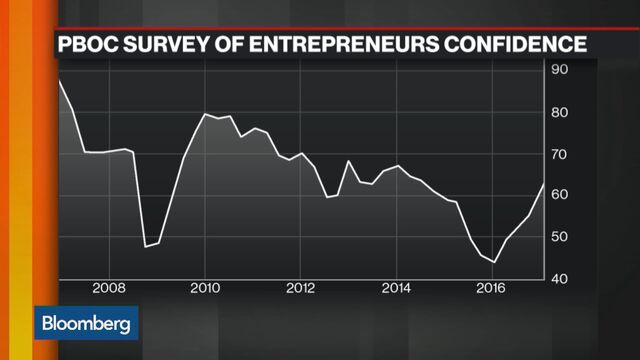 The nation's debt pile ballooned to about 264 percent of gross domestic product, according to Bloomberg Intelligence estimates. Hyman said that structural flaws in China will eventually overcome short-term progress, such as improved economic expansion and business sentiment.
Industrial profits rose 31.5 percent in January and February combined, from a year earlier, the National Bureau of Statistics said Monday, the fastest pace since 2011. The Wall Street analyst also highlighted a diversifying economy as tech companies such as Alibaba Group Holding Ltd. and Tencent Holdings Ltd. add jobs. But, he said there has also been a recent turn toward "insular" policies, similar to President Donald Trump's approach in the U.S.
Beyond that, "they have a huge problem with corruption and pollution," said Hyman, who joined Evercore when he sold his firm, International Strategy & Investment Group, to the investment bank in 2014.
Hyman said Trump is unlikely to start a trade war with China. He cited the nomination of Iowa Governor Terry Branstad as ambassador to the nation as a sign that that the president wants to maintain cordial ties.
But he said both of the world's largest economies face similar obstacles.
"The issue is that debt keeps growing faster than the economy," in China, Hyman said. "So the economy continues to lever up. Same is true for here. We continue to have debt grow faster than gross domestic product."
Hyman said he monitors commodities markets, especially oil, to gauge shifts in the Chinese economy, with falling prices suggesting weakness. U.S. benchmark crude is trading for less than $48 a barrel, compared with a price of more than $50 in the first two months of this year. He said it would be a "very bad sign" for China if oil drops back to $30, and was asked if he's expecting the price to fall to dangerous levels.
"My best guess is that it's not," he said. "But I'm watching."
— With assistance by Joe Weisenthal
(
Updates with comments on commodities in last two paragraphs.
)
Before it's here, it's on the Bloomberg Terminal.
LEARN MORE