Christie Allies Deserve 3 Years for Bridge Plot, U.S. Says
By
Baroni, Kelly convicted of creating crippling traffic in 2013

'Bridget Kelly is no monster,' her attorney writes to judge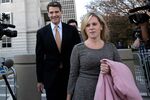 Two former allies of New Jersey Governor Chris Christie who were convicted of joining a political plot to create crippling traffic near the George Washington Bridge should serve about three years each in prison, U.S. prosecutors told a judge.
Countering the prosecution's effort to send a strong message against public corruption, lawyers for Bill Baroni and Bridget Anne Kelly pleaded with the judge for mercy, saying they are innocent and have led good and fruitful lives. 
"Bridget Kelly is no monster," her attorney, Michael Critchley, wrote Monday to the judge who will sentence them. She has led "an exemplary life" as a mother, a daughter, a sister, and a loyal friend, Critchley said. "While Bridget will be forever remembered publicly for Bridgegate, those who actually know her remain steadfast in their love and support," he said.
Baroni's lawyers offered similar warm testimonials in advance of their sentencing on March 29. Baroni and Kelly both asked U.S. District Judge Susan Wigenton in Newark, New Jersey, to let them off with probation. Jurors convicted them Nov. 4 of conspiracy, fraud and civil-rights charges of creating gridlock near the bridge to punish a New Jersey mayor who failed to endorse the re-election of Christie in 2013. Both have promised to appeal, saying the judge erred by failing to tell jurors they could consider their motive.
Former New Jersey Governor James McGreevey and the former lieutenant governor of Nevada were among more than 100 people who wrote letters supporting Baroni. They painted a vivid picture of his life in public service, his battle with obesity, and his advocacy as a member of the gay community for the rights of lesbian, gay, bisexual and transgender people. On such civil rights, "Bill was years ahead of the nation as a whole," his lawyers wrote.
In many areas, Baroni is a "mentor and life coach to dozens of people who credit him for the confidence he helped them find," while "an error in judgment, made during a time of great stress, does not erode the innumerable examples of Bill's integrity and compassion," according to his lawyers.
Different Pictures
Baroni and Kelly painted starkly different pictures than prosecutors did in the sentencing memos made public Monday by the court. Prosecutors focused on their crimes and the need for punishment and deterrence. Baroni and Kelly want the judge to weigh the entirety of their lives even as they insist they are innocent of the crimes.
"Time and time again, Baroni and Kelly displayed a shocking disregard for the public safety risks that the traffic caused," prosecutors wrote. Their crimes were "a stunningly brazen and vindictive abuse of power warranting a sentence that includes a meaningful term of imprisonment."
A 2013 Traffic Jam That Still Dogs Chris Christie: QuickTake Q&A
Prosecutors say Baroni, 45, and Kelly, 44, face between 37 and 46 months in prison under advisory sentencing guidelines. They urged Wigenton to sentence the pair at the bottom end of that range, or just below it.
Baroni was Christie's top executive at the Port Authority of New York & New Jersey, which operates the bridge, while Kelly was a deputy chief of staff for the governor. Prosecutors said they conspired with David Wildstein, Baroni's right-hand man, to close two of three local access lanes to the bridge during the first week of school in September 2013.
Christie Landslide
Wildstein, who pleaded guilty, was the government's star witness during a six-week trial that detailed how traffic created by the plot ensnared commuters, ambulances and school buses. Wildstein said it was designed to punish Fort Lee Mayor Mark Sokolich, a Democrat, whose borough abuts the bridge. Christie won re-election in a landslide and was then considered a frontrunner for the Republican nomination for the White House.
Both Baroni and Kelly testified at trial, denying they intended to punish Sokolich. They said Wildstein was a liar who told them that the lane closings were part of a study examining ways to speed traffic over the world's busiest span. Wildstein hasn't been sentenced yet.
Kelly said she was scapegoated by Christie's administration, and that she told the governor about Wildstein's plans for a traffic study a month ahead of time. Wildstein also testified that he and Baroni discussed the lane closings with Christie as they took place.
Both Kelly and Baroni testified falsely to jurors over several days, prosecutors said.
"They lied about what they knew, what they said, and what they did," the U.S. said. "They evaded, obstructed, and gave alternative explanations that bore no relation whatsoever to the truth. Their flagrantly false testimony was rejected by the jury, which convicted them of all counts."
Kelly's lawyer submitted letters from two of her four children; her ex-husband, a golf professional; ministers and family doctors; her psychotherapist; colleagues; and lifelong friends.
The scandal drew national attention in January 2014 with the publication of an August 2013 e-mail she sent to Wildstein that said: "Time for some traffic problems in Fort Lee." Kelly maintained that the infamous e-mail, as well as other caustic texts, were misconstrued.
Christie said he didn't know of the plot at the time.
The case is U.S. v. Baroni, 15-cr-00193, U.S. District Court, District of New Jersey (Newark).
Before it's here, it's on the Bloomberg Terminal.
LEARN MORE