markets
China Outbound M&A May Reach $275 Billion in a Decade, Reiss Says
By
Dealmaking is continuing despite government's capital controls

U.S. markets may have too much confidence in Trump: M&A lawyer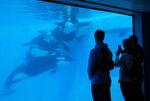 Chinese companies could be spending $275 billion a year on outbound deals in the next decade, even as the country tries to restrict capital outflows, White & Case LLP's John Reiss said.
"We expect dramatic M&A activity outbound from China," Reiss, the law firm's global head of M&A, said Monday on Bloomberg Television. "We have some short-term considerations, with restrictions on capital outflow, with some over-leveraging in the corporations in China, and some questions about the financial system there."
Chinese authorities started ramping up capital controls in the second half of 2016 after three straight years of outflows and declines in the yuan. Of the $220 billion deals announced by Chinese acquirers last year, $40 billion to $75 billion worth were canceled or withdrawn, Linklaters LLP said in a report last week.

Activity is continuing despite the recent restrictions. HNA Group Co. agreed March 26 to buy a 25 percent stake in Old Mutual Plc's U.S. asset-management unit for about $446 million, adding to a $30 billion spending spree by the Chinese conglomerate since last year. On Friday, Zhonghong Zhuoye Group Co. agreed to acquire a 21 percent stake in SeaWorld Entertainment Inc. from Blackstone Group LP, becoming the U.S. theme-park operator's biggest shareholder.
In the U.S., Reiss said, dealmaking has been active because it correlates with confidence and a strong stock market. That may change as the market pulls back amid challenges to implementing President Donald Trump's health-care, tax, regulatory and immigration agendas.
House of Representatives leaders abruptly scrapped a planned vote Friday on the bill to repeal and replace President Barack Obama's health-care law, the Affordable Care Act, because not enough support materialized. That led markets lower amid doubt that other campaign promises by Trump, such as tax and regulatory reform, can quickly come to fruition.
"His pro-business agenda is so good for M&A," Reiss said of Trump. "On the other hand, we wonder a little bit if the stock market and the confidence has over-weighted a bit the positives of his business agenda and under-weighted the negatives of his non-business agenda, and under-weighted the risks and uncertainty of his process."
Before it's here, it's on the Bloomberg Terminal.
LEARN MORE