Merkel Party's Victory in German State Vote Blunts Rival's Surge
By
Christian Democrats boost voter share, hold Saarland state

Social Democrats fail to capitalize on 'Schulz effect'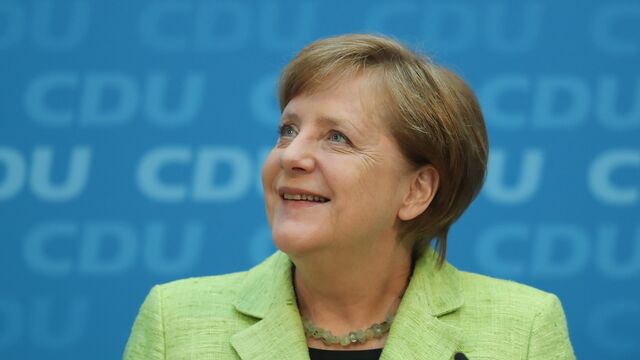 German Chancellor Angela Merkel's party easily won elections in the western state of Saarland, underscoring the challenge facing her Social Democratic rivals as they seek to deny her a fourth term in September.
In the first test of voter support ahead of the 2017 federal election, Merkel's Christian Democratic Union took more than 40 percent to about 30 percent for the Social Democrats, according to projections by broadcasters ARD and ZDF after Sunday's vote. The anti-capitalist Left Party was projected third with 12-13 percent, with the anti-immigration Alternative for Germany at about 6 percent.
If confirmed, the result ensures the CDU will return at the head of a state coalition with the Social Democratic Party, mirroring the national government Merkel leads in Berlin. That's a blow to SPD leader Martin Schulz, whose announcement as Merkel's challenger for the chancellery in the Sept. 24 election has lifted his Social Democrats out of nowhere back into contention in national polls.
"The CDU resoundingly won the Saarland election," Schulz told reporters at his party's headquarters in Berlin. "There's no way to make it look pretty."
While Saarland is the nation's second-smallest state with just short of 1 million people, the CDU's score -- an increase of almost six percentage points over the region's last election in 2012 -- is a reality check for the Social Democrats as they seek to end Merkel's 12-year tenure.
Left Factor
SPD leaders acknowledged that leaving the door open to forming a state government with the Left, a point exploited by Merkel and state premier Annegret Kramp-Karrenbauer, probably cost the Social Democrats votes.
"The national SPD will have to watch and learn from this," Famke Krumbmueller, a partner at Paris-based political risk adviser OpenCitiz, said in an email. "The open flirtation of the SPD with the Left probably scared voters."
For Merkel, the result was a victory for a popular state leader who sits on the CDU's national leadership board and has broadly backed her open-borders refugee policy.
"This result gives us encouragement," Peter Altmaier, Merkel's chief of staff at the federal chancellery, told ARD. "We're happy tonight."
Before it's here, it's on the Bloomberg Terminal.
LEARN MORE