politics
Le Pen Pledges Careful Steps, No Chaos to Appease French Voters
By
Euro exit talks would be 'final step' after German election

National Front leader loses ground after 'chaos' accusation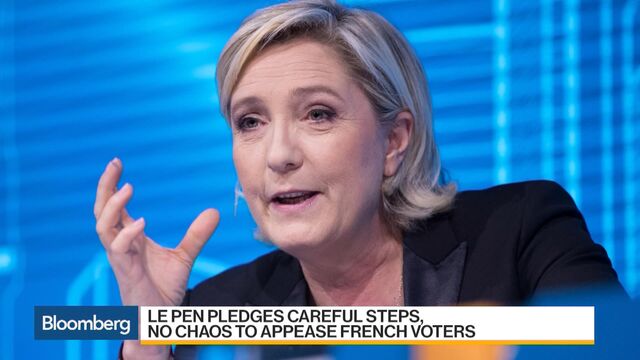 French presidential candidate Marine Le Pen tried to reassure voters about her political plans, saying she doesn't want chaos and is ready to wait until late this year to begin talks to pull France out of the euro.
"When we've made a mistake we must admit it, but it needs to be done carefully," Le Pen said as part of a three-page exchange with voters in Le Parisien newspaper on Sunday. Reinstating border controls and stopping factory jobs from moving abroad will be her priorities if she wins power in May, she said, and "the euro will be the final step because I want to wait for the result of the German election."

Le Pen indicated that she's holding firm on her program's most distinctive proposal even as she works to alleviate concerns about its consequences. The 48-year-old leader of France's National Front party has lost ground to independent candidate Emmanuel Macron in polls in recent days after Republican Francois Fillon in a debate last week accused her of ushering in "economic chaos" with her pledge to withdraw the country from Europe's single currency.
"I don't want chaos," she said in the newspaper interview. She has promised a referendum on the euro.
About 28 percent of voters want to pull France out of the common currency, while 72 percent want to remain in, according to an Ifop poll published in Le Figaro newspaper Saturday.
Neighboring Germany is scheduled to hold its own federal election on Sept. 24.
Before it's here, it's on the Bloomberg Terminal.
LEARN MORE