business
Your Evening Briefing
Here are today's top stories.
By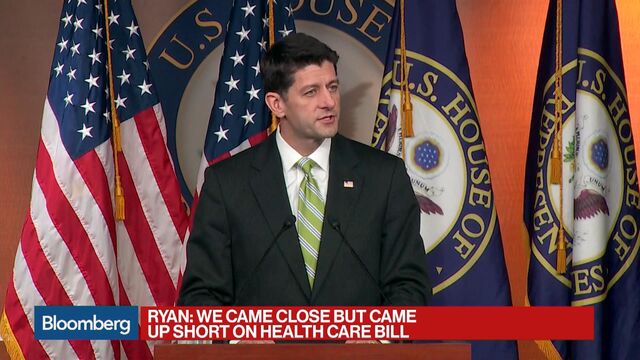 Want to receive this post in your inbox every afternoon? Sign up here.
After a delay, an ultimatum, and a cliffhanger day in Washington, the vote for the GOP's health-care bill was called off.
"I will not sugarcoat this: This is disappointing day for us," House Speaker Paul Ryan told reporters moments ago. What a Friday. —Megan Hess
GOP cancels health-care vote at Trump's request. Paul Ryan called off a vote on his party's embattled health-care bill Friday, as a growing number of House Republicans announced their opposition. The cancellation comes just a day after President Trump demanded a do-or-die vote on the longtime GOP priority. "We're going to be living with Obamacare for the foreseeable future," Ryan said in a news conference Friday afternoon. The retreat deals a blow to the rest of the GOP agenda.
That SpaceX rocket looks familiar. The Falcon 9 rocket slated to take off from Cape Canaveral next week has flown before, marking the first time Elon Musk's SpaceX will refly one of the 14-story-tall boosters it recovered from past missions. The reused rocket, which will carry a communications satellite into orbit, signals a leap forward in Musk's 15-year-quest to drive down launch costs and eventually create a human colony on Mars.
Politics vs. profits. There is little doubt that if Congress finds as much as $25 billion to construct Trump's 30-foot border wall with Mexico, someone will happily take that money. But increasingly, major corporations are weighing potential profit against political costs. Mexican cement giant Cemex SAB, for example, won't participate, though it is well positioned to profit with plants on both sides of the border.
A German bank accidentally transferred $5.4 billion to four other banks. In February, Germany's state-owned development bank KfW mistakenly transferred more than 5 billion euros because of a technical glitch that repeated single payments multiple times, according to people familiar with the matter. KfW said it discovered the glitch and received the money back without suffering a loss. It's happened before: The bank erroneously transferred hundreds of millions of euros to Lehman Brothers the day it filed for bankruptcy in 2008.
Uber's recruiting team was denied access to diversity information, according to several people familiar with Uber's hiring. The limitation was especially vexing because other tech companies of Uber's size release annual diversity reports to the public, and like many of its Silicon Valley cohorts, Uber is obsessively data-driven. Now, under pressure from harassment and sexism allegations, the ride-hailing giant is rethinking its approach to hiring. In the meantime, its rivals are raising new funding.
The hidden risks of Trump's EPA cuts. About fifty former officials of the Environmental Protection Agency are firing back against the president's cuts in a lengthy analysis that details, program by program, what his proposed budget could do to the agency and human health. We've pulled out some highlights of the group's single-spaced, 50-paged analysis — including dangers such as lung cancer, airborne chemicals and toxins, and hazardous materials.
Spice up your March Madness menu. Chili doesn't benefit from fancy ingredients. In fact, it's antithetical to try sourcing expensive aji charapita peppers. But there are a few secrets to making a good pot, and professional chef Bobby Flay is sharing them here. His recipe includes a surprise ingredient that adds a dark sweetness to the dish.

Before it's here, it's on the Bloomberg Terminal.
LEARN MORE