Tillerson Will Go to Rescheduled NATO Meeting After Criticism
By
Secretary of State had said meeting didn't fit his schedule

Advocates for alliance warned the move sent the wrong signal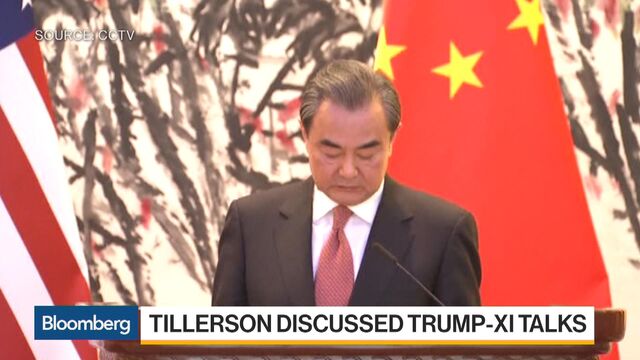 U.S. Secretary of State Rex Tillerson will attend a rescheduled meeting of the NATO alliance's 28 foreign ministers after coming under fire for saying he would miss the event because it conflicted with his schedule.
Tillerson will go to Brussels for a meeting of the 28-nation North Atlantic Treaty Organization on March 31 after a visit to Turkey the day before, the State Department said Friday. The meeting was originally set for April 5-6, and the State Department had initially said the U.S. would be represented by Undersecretary Tom Shannon.
Tillerson had faced criticism from advocates of the alliance for planning to skip the meeting. They said that would only exacerbate concerns about the American commitment to NATO after President Donald Trump called it "obsolete" last year. Since taking office, Trump has vouched for the alliance's importance but continues to criticize most other members for failing to meet a goal of spending 2 percent of gross domestic product on defense.

It would have been the first time since 2003 that a U.S. secretary of state didn't attend the NATO foreign ministers meeting. The concerns were fanned further because Tillerson disclosed he'd miss the meeting while revealing that he will make a trip to Russia later in April.
NATO Secretary-General Jens Stoltenberg said the alliance meeting could be rescheduled to accommodate Tillerson, and the two sides spent a few days in discussions to settle on the new date.
Xi Meeting
While the State Department never said what Tillerson's scheduling conflict was, Trump may meet China's President Xi Jinping in Florida in early April. Missing that session only would have fed the criticism that Tillerson hasn't played a central role in White House decisions on foreign policy.
"For a foreign minister to miss a NATO meeting is something that doesn't happen often," Ivo Daalder, who was U.S. ambassador to NATO under former President Barack Obama, said before Tillerson's revised plans were announced on Friday. "When it does happen, it happens for good reasons. A meeting with Xi Jinping isn't good enough reason. It's more important to be at his first meeting with allies who have stood shoulder-to-shoulder with the U.S. since 1949."