politics
Spain Applauds May's New, Tougher Approach to Scots Separatists
By
U.K. government resisting Scottish demands for new referendum

Officials in Madrid concerned about Catalan independence push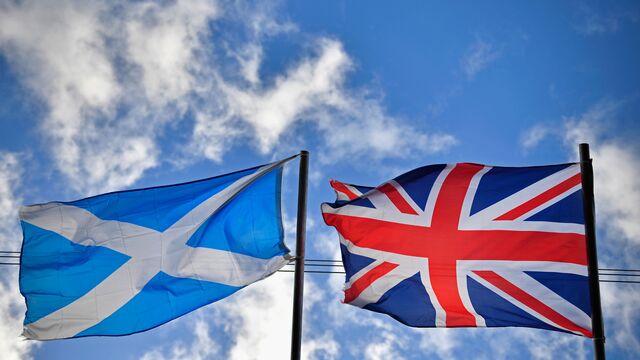 For the Spanish government, Britain is finally putting sensible limits on direct democracy.
After one referendum nearly broke up the U.K. in 2014 and another last year set the country on course to leave the European Union, Prime Minister Theresa May moved to shut down talk of further plebiscites for now when Scotland demanded a second vote on independence last week. That decision was particularly welcomed in Madrid, where Spanish officials have been trying to damp down separatism in Catalonia, the country's biggest regional economy, for the past five years.
"Both governments understand that a referendum isn't the best way of solving this kind of political dispute," Enric Millo, the central government's representative in the Catalan capital Barcelona, said in an interview. "We have been clear about that for a long time. And now the U.K. is clear about it too."
With May preparing to negotiate Britain's exit from the European Union, Spain's goodwill matters more to officials in both London and Edinburgh than at any point in the recent past.
May's government has identified Spain a potential ally during the Brexit talks because its economy benefits from 18 million British tourists a year and some 122 billion euros ($132 billion) of Spanish investment in the U.K. Spain would also have a veto on an independent Scotland joining the EU and the nationalists in Edinburgh pushing for a vote know that negative signals from Madrid could interfere with their efforts to rally support.
Illegal Vote
Many Spanish officials were appalled when May's predecessor David Cameron granted the Scots a vote on independence in September 2014. Facing similar demands from the Catalans, Spanish Prime Minister Mariano Rajoy has stonewalled the separatists and pursued any challenge to his authority through the courts. Former Catalan President Artur Mas was barred from public office for two years this month for organizing an illegal referendum in November 2014.
Read more on the history of Catalan grievances
"A referendum that produces a winner and a loser doesn't resolve the conflict," said Millo, who hosted the British ambassador to Spain, Simon Manley, earlier this week. "You make progress on the issue when there is dialogue and a willingness to reach an agreement."
May insisted that another referendum is "not a topic of discussion at the moment" since Scottish First Minister Nicola Sturgeon announced her plans for a second vote, to allow pro-EU Scotland a chance to avoid Brexit.
Years of Ill Will
Rajoy's Catalan strategy will face a fresh test later this year as the regional government moves ahead with its plan to hold another disputed referendum by September. The ruling group in the Barcelona-based regional assembly won the support of two anarchist lawmakers to pass a 2017 budget law on Wednesday. The budget includes a specific provision to fund the vote.
The regional parliament is also creating a fast-track procedure to legislate for the institutions of an independent state, including new social security and tax systems. Rajoy has pledged to block the referendum and embarked on a campaign to woo more moderate Catalans with potential improvements to the funding system for Spanish regions, and the prospect of new infrastructure projects.
"The negotiation and dialogue should be focused on those topics, not sovereignty," said Millo. "It would be good for the Catalan government to concentrate on governing for everyone and not for some, or just a few."
Still, Rajoy's charm offensive has to overcome the ill will accumulated over years of clashes between officials in Madrid and Barcelona. His former Interior Minister Jorge Fernandez Diaz is due to testify next month before a parliamentary investigation into whether Rajoy's government abused its control of the police to pursue politically motivate investigations into Catalan leaders.
Before it's here, it's on the Bloomberg Terminal.
LEARN MORE