South China Sea Reefs Need Defending, China Premier Li Says
By
Premier denies China is militarizing the disputed region

Li comments on official visit to trading partner Australia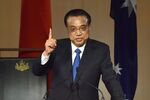 China needs military equipment on reclaimed reefs in the South China Sea to defend its trade interests in the region, Premier Li Keqiang said, while denying his nation is militarizing the disputed waters.
"China's facilities on Chinese islands and reefs are primarily for civilian purposes," Li said in a news conference on Friday in Canberra with Australian Prime Minister Malcolm Turnbull. "Even if there is a certain amount of defense equipment or facilities, it is for maintaining freedom of navigation and overflight."
Li's comments were made during his sole briefing during a five-day visit to Australia. He told lawmakers and business leaders on Thursday that Australia doesn't need to take sides between China, its largest trading partner, and main strategic ally the U.S.
While Australia has been careful not to offend China, which took 31 percent of its merchandise exports in the 12 months to July, it's been uneasy about Beijing's military build-up in the South China Sea, which contains some of the world's busiest naval trading routes. Alongside China, nations such as the Philippines, Vietnam and Malaysia claim some of the waters.
About 80 percent of China's oil imports pass through the South China Sea, according to the U.S. Energy Information Administration.
"It is the responsibility of all countries in this region to work together and to maintain peace and stability in the South China Sea and uphold freedom of navigation and overflight," Li said.
'Tight Situation'
China and Australia signed a clutch of agreements Friday, including boosting two-way agricultural trade and on infrastructure cooperation. Li told reporters he agreed with Turnbull on the need to uphold trade liberalization. In the wake of U.S. President Donald Trump's protectionist tilt, China has begun publicly championing free trade and globalization.
Geoff Raby, a former Australian ambassador to China who now runs his own consultancy, told Bloomberg Television on Friday that tensions over the South China Sea had "put the Australian government in a terribly tight situation."
Watch the video: Raby says Australia in tight spot with China
"On the one hand, we have huge commercial and economic interests in China," Raby said. "The Australian economic future is in China. On the other hand, our security is with the U.S. for our alliance arrangements."
— With assistance by Matthew Burgess
Before it's here, it's on the Bloomberg Terminal.
LEARN MORE