Russia Reboots Easing With Surprise Cut, But Don't Call It Cycle
By and
Only 11 of 41 economists forecast cut, rest saw rate unchanged

Policy makers look to bring inflation to 4% target by end-2017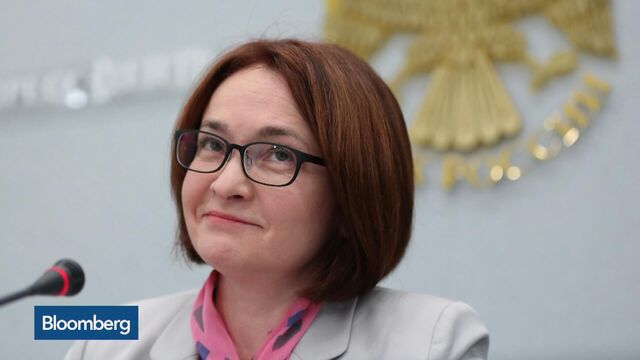 The Bank of Russia turned the page on a six-month pause in rate cuts, reducing borrowing costs in a surprise move that broke with its guidance last month.
Policy makers said on Friday they see "the possibility of cutting the key rate gradually" in the next two quarters. The one-week auction rate was lowered to 9.75 percent from 10 percent, according to their statement. That was in line with the forecasts of only eight of 41 economists surveyed by Bloomberg, with most of the rest seeing no change. 
While the outlook for deeper cuts pushed bonds higher, the ruble had the biggest gain among its peers in emerging markets, rallying the most in a week on expectations the decrease was too small to dent its carry-trade appeal. At a news conference, Governor Elvira Nabiullina said a sequence of rate cuts may not be uninterrupted, meaning the decision doesn't necessarily mark the start of a new easing cycle. 
"We'll act very carefully and smoothly," she said in Moscow. "Speaking generally about the medium term, we'll continue to cut the key rate gradually, possibly with some pauses, all the while maintaining the moderate tightness of monetary policy."

The central bank is pivoting in response to a faster-than-forecast decline in inflation that's keeping it on track to reach its 4 percent goal months ahead of a year-end deadline. But its turn to easing came with caveats. After moving in 50 basis-point steps for its prior three reductions, policy makers switched to a quarter percentage-point decrease for the first time since the key rate was introduced in September 2013.
Should the "situation develop fairly positively," an easing cycle -- defined as rate cuts repeated at every central bank meeting -- is still possible, according to Nabiullina. Only last month, the central bank issued guidance that called into question its room for monetary loosening in the first half.
"In our view, this will be the start to a cutting cycle that will begin slowly but pick up speed as inflation falls below the target in the second half of the year," Goldman Sachs Group Inc. economist Clemens Grafe said in a report. "Real interest rates at this point are actually at best stabilizing at very high levels and hence the ruble will remain well supported."

Bonds rose and the ruble extended gains after the announcement, bringing the Russian currency's advance this year to more than 7 percent against the dollar. The yield on 10-year government notes declined five basis points to 7.95 percent.
"Today's decision decreased expectations for the size of each future rate cut," said Dmitri Petrov, a trader at Nomura International Plc in London. "This translates into less easing cumulatively on a longer horizon."
The central bank telegraphed that it was rethinking February's guidance when the head of its monetary-policy department said reductions of 25 to 50 basis points will be under consideration. The choice of a smaller cut may amount to an effort to protect its reputation, according to Piotr Matys, an emerging-market currency strategist at Rabobank in London.
"A larger cut may have undermined the central bank's credibility," Matys said. "The Bank of Russia is yet another central bank that fell into the trap of providing forward guidance only to reverse it very soon."
Click here to read more about how Bank of Russia telegraphed its decision
The Bank of Russia has previously been on alert because it attributed the deceleration in prices partially to "temporary" factors. Inflation was at an annual 4.3 percent over the first 20 days in March, the central bank estimates. The challenge remains to align the slowdown with inflation expectations, which rose last month to more than triple the target.
The reboot of monetary easing is likely to do little to cool demand for Russian assets, which have been swept up by a surge in investor appetite for emerging-market stocks and bonds since the Federal Reserve laid out a relatively dovish outlook for U.S. rate increases at its meeting last week.
Elevated rates in Russia have made the ruble a magnet for carry traders. The Russian currency, among the top-10 performers globally this year, traded 0.7 percent stronger at 57.0525 against the dollar as of 4:58 p.m. in Moscow.
"Russia still has among the highest real rates in emerging-market space," said Timothy Ash, senior strategist at Bluebay Asset Management, said in an emailed note. "If the Fed last week was a dovish hike, this was a hawkish cut."
Watch more: Nabiullina's news conference in full.
— With assistance by Zoya Shilova, Vladimir Kuznetsov, Anna Baraulina, and Andrey Biryukov
Before it's here, it's on the Bloomberg Terminal.
LEARN MORE