economics
Rand Rally Seen Fading by Old Mutual as Political Risk Lingers
By
South African rand is world's best-performing currency in '17

Old Mutual's George sees rand nearing the end of its advance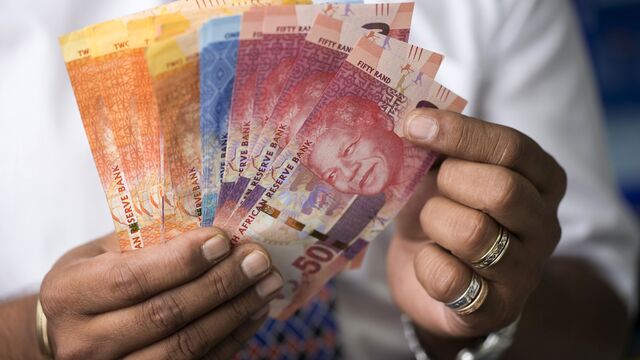 The rally that made South Africa's rand the world's best-performing currency this year might be nearing its end, according to Old Mutual Investment Group.
The currency gained 10 percent against the dollar in 2017, supported by higher prices for metals mined in Africa's most industrialized economy, and expectations that gross domestic product growth will rebound from the slowest expansion since the 2009 recession. Together with a 13 percent advance last year, the rand is close to almost wiping out its 2015 losses.

"While the fundamentals are improving, which would suggest rand strength, we've probably seen quite a lot of it already," said Hywel George, director of investments at Cape Town-based Old Mutual Investment Group South Africa, which oversees about 600 billion rand ($48 billion) in assets. "I suspect a little more of the same, but I wouldn't be in any way outlandishly bullish on the rand right now given how far it's moved already."
The rand may weaken to 14.13 per dollar by the end of 2017, according to the median estimate of analyst-data compiled by Bloomberg. The currency dropped less than 0.1 percent to 12.4641 by 12:20 p.m. in Johannesburg on Friday.
South Africa has also benefited from demand for emerging-market assets as investors pare back expectations on the magnitude of interest-rate increases by the Federal Reserve, and hopes that policies mooted by President Donald Trump will spur growth. All that risks being undone by uncertainty over the future of Finance Minister Pravin Gordhan, who has been under sustained attack by President Jacob Zuma's allies after domestic banks dropped his friends, the Guptas, and for opposing spending plans on nuclear reactors.
Political Upsets
"Barring any political upsets, we're expecting a better year for the economy, so given our scale as a savings institution, better flows for us too," George said, adding that South African investors might benefit from putting money into an emerging-markets equity fund.
Old Mutual won't change strategy because of 1.1 billion rand in net outflows from the group's funds over the past year, George said. "Our book was basically flat, which reflected we have a high market share, we've got a mature economy, which itself was flat. So we're not reading, frankly, too much into that."
The investor's best performing funds include the Old Mutual Mining and Resources Fund and the Old Mutual Small Companies Fund, each up 17 percent over the past year and in the top 10 among South African funds, according to data compiled by Bloomberg. The Old Mutual Global Equity Fund is the continent's best-performing mutual fund over five years with a 24 percent return after Coronation Asset Management's Global Managed (ZAR) Feeder Fund, which has added 27 percent, the data show. 
Here are more comments from George during a phone interview:
On Hedge Funds
Old Mutual is planning to grow its hedge-fund business within the company's Customised Solutions boutique, and will focus on both current offerings and potential new funds or styles, George said. "We are in the process of finalizing our concepts with respect to a multi-asset class fund and a number of other potential ideas within the long-short space."
On Fees
Old Mutual is no different to other investors in South Africa or globally in feeling pressure from investors on fees, especially on funds tracking indexes that clients increasingly are choosing, George said. Watching costs and delivering added value for actively managed funds is key for justifying fees.
On M&A
Mergers and acquisitions globally will increase as companies search to spend cash piles created by improving performances, George said. A trigger event in the U.S. could be the repatriation of cash sitting in overseas markets under the Trump proposal to give an amnesty for tax purposes, he said.
On Nigeria
It will be interesting to see "if and how" Nigeria bounces back this year, George said. "They've got their issues in terms of the currency and they need to let that currency float properly. When that happens, I'm sure money will start to flow back into Nigeria, money will start to flow around the economy better, and they will get back on to a growth path. Nigeria has amazing opportunity over the next five to 10 years, they just have to get this near-term obstacle out of the way."
— With assistance by Ryan Du Toit
Before it's here, it's on the Bloomberg Terminal.
LEARN MORE