business
GOP Health Benefits Change Would Upend Insurers' 2018 Plans
By
States would decide which parts of current coverage to keep

Cutting 'essential' benefits may lead to less expensive plans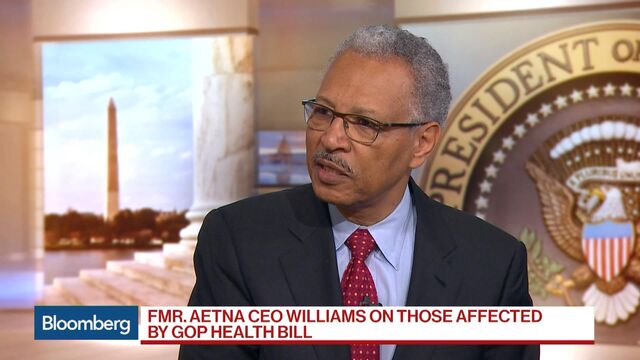 A late-night amendment to the Republican plan to repeal and replace the Affordable Care Act risks forcing states to scramble to pass new laws to regulate their health insurance markets, another hurdle for what's already shaping up to be a volatile 2018 in the exchanges.
The amendment, added ahead of a contentious vote later Friday, would add uncertainty for insurers and regulators by having states decide which benefits health plans have to cover. Obamacare required insurers to cover 10 broad categories of services, while giving states authority on the details. The GOP amendment doesn't specify how states' new responsibilities would interact with the broad mandates, which are left in place -- potentially sowing chaos as insurers try to plan for next year.
"House Republicans should look before they leap," Nicholas Bagley, a law professor at the University of Michigan, wrote on the blog The Incidental Economist. "Even if they're on board with the amendment's goals, its actual language is a train wreck. If it becomes law, the individual insurance market will likely collapse nationwide in 2018. Its fate after that will be highly uncertain."
States apparently would have to define the benefits themselves -- a process requiring legislation. Insurers have to submit health plans for 2018 in the next few months, and complying with a new set of not yet written rules could throw the markets into chaos. They would have to quickly reassess who would sign up for the plans and how much to charge. The GOP bill would also change penalties for not having insurance, further altering insurance market dynamics next year.
'Too Late' for 2018
That has some betting that there's no way the rules could go into effect right away.
"This would have to be for 2019 at the earliest," said Joel Ario, a former insurance regulator who's now a managing director at Manatt Health. "It's just too late to try to do something for 2018." Ario worked for the Obama administration on the implementation of the Affordable Care Act.
Because it's not clear how states would set their benefit levels, it's hard to evaluate the effect on premiums or overall federal spending, according to the Committee for a Responsible Federal Budget. If premiums fall significantly, more people may sign up, raising total spending on subsidies, CRFB said. For instance, if 5 million more people enroll, U.S. spending over the next decade would be $150 billion higher.
The Society of Actuaries said that reducing the benefit requirements would probably lead insurers to offer less generous plans. And comprehensive coverage would probably become less available, because only sick people would buy it.
Comprehensive Plans
That "would contribute to much higher premiums for the comprehensive plans needed for people with both minor and major chronic disease issues," the actuary group said by email.
California's insurance commissioner, Dave Jones, slammed the GOP proposal in a statement Thursday.
"The GOP has concocted a proposal that is shortsighted, ill-conceived and dangerous to the health of people who need health insurance coverage," he said. "The House GOP is breaking its promise to protect people with pre-existing conditions who need their health plans to cover essential health benefits."
The requirements, called Essential Health Benefits, were written into Obamacare to mandate 10 broad categories of services, including pregnancy, maternity and newborn care; hospital care; prescription drugs; mental health and substance abuse treatment; and pediatric dental and vision services. The amendment that would let states circumvent them is intended to lower premiums and win votes from the conservative House Freedom Caucus.
Pooled Risk
Yet it would undermine a key feature of insurance markets -- the idea that premiums from lots of people are pooled together to pay the costs of those who need care. For example, premiums from healthy men cover maternity care for women. Premiums from healthy women cover prostate surgery for men.
Before the ACA, most individual insurance plans had relatively low benefits, covering less than 60 percent of health expenses, according to a study in Health Affairs. Employer-provided plans typically cover 80 percent or more.
Without the benefit requirements, "what you end up with is mostly minimal-value insurance," Ario said. "People needing service above that would be paying close to the full cost."
Before it's here, it's on the Bloomberg Terminal.
LEARN MORE