France Meets 2016 Deficit Target, Sapin Predicts Further Decline
By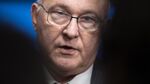 France met its budget deficit target in 2016 and Finance Minister Michel Sapin predicted a further decline in the current year.
The shortfall was equivalent to 3.4 percent of gross domestic product in 2016, down from 3.6 percent the previous year, national statistics office Insee said Friday. France's public debt level climbed to 96 percent of GDP last year, Insee said.
"For the third straight year, France has scrupulously met its European commitments," Sapin said in a statement. "There is every reason to expect that, in 2017, the deficit will return below the 3 percent bar," he said.
Before it's here, it's on the Bloomberg Terminal.
LEARN MORE