FOOD & DRINKS
Celebrate Game Day With Bobby Flay's Perfect Beef Chili
It's easy, delicious, and the ultimate sustenance for March Madness.
By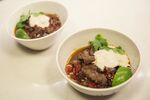 Some dishes, such as massive seafood towers crowned with elaborate shellfish and seven-tiered weddings cakes, are best left to the professionals.
Chili is not one of those. Superior versions can come from anywhere, whether on the back of a five-alarm-chili kit or an uncle's award-winning recipe jotted down on an envelope. It doesn't benefit from fancy ingredients—in fact, it's antithetical to try sourcing expensive aji charapita peppers ($25,000 per kilo) to make a pot of chili.
There is a professional chef who knows the secrets of a good chili: Bobby Flay. The chef/owner of Gato in New York and the star of Food Network shows like Worst Cooks in America, has been making chili most of his life. "I know it well," Flay wrote in an email. "I've been cooking Southwestern food for over 30 years."

The recipe he shared with us is stocked with chunks of tender beef and flavored with a rich sauce spiked with tomato, multiple chiles, and maple syrup, a surprise ingredient that adds a dark sweetness to the dish. After you inject some elbow grease at the beginning to chop the ingredients, it's an easy dish to keep an eye on over the course of a couple of hours, though Flay prepares it only on special occasions. "I make it a couple times a year, on a big game day," he confided.
For some people, there is no bigger game day than the last rounds of March Madness, parked in front of the television waiting on the latest upset. Flay's chili is perfect for a marathon of college basketball: "You can start it in the morning and by the time of the game, you're eating a hearty meal, and it's actually pretty healthy." Flay's last piece of advice: "Don't forget the beer."

To make this particular chili, Flay follows five essential guidelines.
1. Skip the Fancy Meat Options. "Save the filet mignon for beef Wellington," Flay said. "Chili is all about low and slow cooking, so you need a tougher cut—whether you're using beef, pork, lamb, or venison, and all of them work here. I make this recipe with beef chuck, but you can also substitute shoulder, brisket, or bottom round. These cuts are perfect for braising, with a lot of connective tissue that breaks down and lends body and flavor to the chili, too."
2. Brown for Flavor. "The first step of the recipe is browning the meat. It's essential for making a great chili. This is where the rich flavor starts to build. You want a deep, brown color on all sides. Do it properly: In batches. Do not crowd the pan, or the meat will just steam, not brown. And use a very hot pan—I recommend a heavy bottom, enamel-coated, cast-iron Dutch oven—over high heat, with enough fat to coat the bottom of the pan. And don't forget to season the meat liberally with salt and pepper. 
3. Spice It Up. "Chili should have a kick, but not be burn-your-mouth-out hot. I love mixing fresh and dried chiles and balancing that heat with sweet spices, such as cinnamon, and natural sweeteners, such as maple syrup. Occasionally, I even add a touch of bittersweet chocolate. But please, please make sure your spices are fresh. If you can't remember when you got that cumin—if you feel like it might be celebrating a significant anniversary in your cabinet—it is definitely time to buy a new jar."

4. There's Really Only One Chili Bean.  "I don't always use beans in my chili, but when I do, I opt for black beans. They're my favorite. But I make a great green pork and posole chile, too, and posole adds that corn flavor to a chili that is great. It's a perfect substitute for beans."
5. Don't Forget the Sour Cream. "It is a proven fact that the only cure for a spicy food mouth burn is milk. If you made your chili on the spicy side, you need some relief. I am not one to drink a glass of milk with my chili, so I recommend serving sour cream on top or on the side." To up the ante on his garnish, Flay flavors it with sour cream (a great tip for plenty of other stews).

Ultimate Beef and Black Bean Chili
Ingredients
Serves 4 to 6 people
3 tbsp. canola oil
2 ¼ lb. beef chuck, cut into 3/4-inch cubes, excess fat discarded
Kosher salt and freshly ground pepper
1 large onion, finely chopped
4 cloves garlic, finely chopped 
1 serrano chile, seeded finely diced
¼ cup favorite chili powder (or 3 tbsp. ancho chili powder plus 1 tbsp. pasilla chili powder and 1 tbsp. ground cumin)
Pinch of ground cinnamon
1 qt. chicken stock or canned low sodium broth
1 (16-ounce) can fire-roasted tomatoes, pureed
2 tbsp. pure maple syrup
1 tbsp. chipotle pepper puree (from a can of chipotles)
3 cups canned black beans, rinsed and drained
1 lime
Sour cream, ground cumin and cilantro leaves, for serving
Boiled rice, for serving

Heat the oil in a large casserole over high heat. Season the beef with salt and pepper; add half of the meat to the pan in an even layer and sauté over high heat until browned all over. Transfer the meat to a plate. Repeat with the remaining meat; add more oil to the pot, if necessary.  
Discard all but 2 tablespoons of the fat from the pan. Add the onion and cook over moderately high heat, stirring, until soft. Add the garlic and serrano chile, and stir for 1 minute. Add the chili powder and cinnamon, season with salt and cook for an additional 2 minutes. Add 1 cup of water and cook until reduced by half. 
Return the beef to the pot, add the chicken stock, tomatoes, and maple syrup, and bring to a boil. Reduce the heat to moderately low, partially cover the pot, and simmer, stirring occasionally, until the beef is tender, about 1 1/4 hours; occasionally skim off any fat.
Add the beans and continue cooking for 15 minutes. Meanwhile, in a bowl, mix the sour cream with a few large pinches of cumin and season with salt and pepper. Season the chili with salt and pepper and add the juice from the lime. Ladle the chili into bowls on top of rice, garnish with cilantro, and serve with a dollop of cumin sour cream.
Before it's here, it's on the Bloomberg Terminal.
LEARN MORE