Brexit Bulletin: Should We Brace for a Bust-Up?
There could be more bumps ahead in the road to Brexit.
By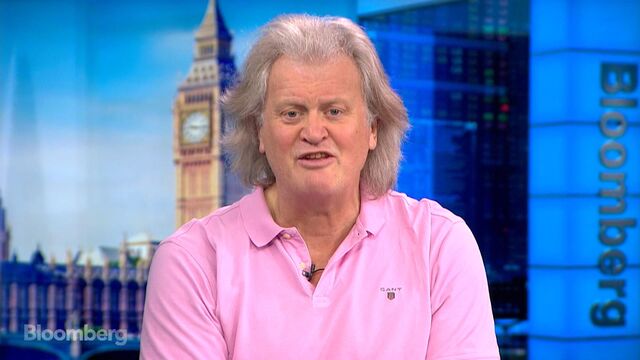 Sign up to receive the Brexit Bulletin in your inbox, and follow @Brexit on Twitter.
With less than a week before Theresa May activates Britain's withdrawal from the European Union, many politicians and analysts are openly debating whether it will all end in tears.
Anand Menon of the U.K. in a Changing Europe research group says there is a 50 percent probability that negotiations will collapse without a safety net for Britain. That would mean no trade deal or transitional period.

Even one U.K. government official privately sees a 30 percent likelihood of that happening; Spain's government told EU counterparts this month that there is a "feasible" chance.
Several things could cause a bust-up, including the EU's demands for a financial settlement or the U.K.'s ambitions for a sweeping trade deal.
Were the hardest of Brexits to occur, expect the pound to slide and companies from banks and airlines to carmakers and retailers to brace for higher trade barriers and lower access to the EU market.
"A deal will take a lot more time, goodwill and tact than has been on display from either side," said Menon. "I find it very hard to see how May gets all she wants."
For now, the prime minister's team is playing down both the risk of a breakdown and the pain it would cause. They want to ward off any effort by the EU to punish the U.K. for voting to leave. She also faces political pressure from home, from some to deliver a clean, swift break and from others to ensure the economy isn't rocked on its heels.

Deutsche Bank strategist Oliver Harvey reckons an impasse might have to be reached for any progress to be made. May would then seek an electoral mandate to strike a deal some in her own ruling Conservative Party won't like, he said.
"The U.K. will eventually compromise," he said. "But this will depend on a weakening economy and market pressure, with a full cliff-edge Brexit likely to be fully priced in at some point in the next two years."
European Commission President Jean-Claude Juncker told the BBC that the bill is around 50 billion pounds ($62 billion), but that the EU will "negotiate in a friendly way," while Italy's European affairs minister Sandro Gozi told Bloomberg on Friday that talks on an exit deal and a future settlement can overlap.
That could offer a glimmer of an opportunity for Britain's negotiators. 
On the Markets
British exporters are in a post-referendum and pre-Brexit "sweet spot" which may not last, according to Bank of England Deputy Governor Ben Broadbent.

Sterling's fall since June has helped U.K. exporters, though the country's trading rules "are for the time being unchanged," Broadbent said in a speech. "The result is that the costs and ease of exports are unchanged but the returns to it significantly higher."
He think's it's unlikely that the favorable conditions will last forever.
"Either the currency market is right about the consequences of Brexit, in which case the U.K.'s trading relationships will become less favorable; or it's wrong, in which case sterling is likely to recover," Broadbent said.
Kathleen Brooks of City Index said U.K. stocks are now being infected by the Brexit worries that previously drove down the pound. The FTSE 100 Index fell this week, but sterling benefited from weakness in the dollar.

Brexit Round-Up
The U.K. is failing to provide enough resources to its civil service, with staffing down by a quarter since 2006, the National Audit Office says
The Home Office plans to hire 240 extra staff in Liverpool to process residency requests from EU citizens, the Financial Times reports
The European Central Bank warned that regulation loopholes could allow financial institutions to exploit looser standards in the rest of the EU
Clifford Chance says the government can't know "how all the EU's laws affect U.K. businesses in practice."
Deutsche Bank to show faith in London by moving to new office in the capital in 2023, Sky News says
French regulator Gerard Rameix says the Brexit vote means the EU must reassess its rules for judging equivalence of foreign jurisdictions' financial regulations
Next CEO Simon Wolfson says the government sounds "less closed" than after the referendum and that "most people are very reasonable about immigration"
The Centre for European Policy Studies looks at what Brexit will mean for the EU-27, saying losses are "virtually insignificant" and average between 0.11 percent and 0.52 percent of output
BMI Research says the car production outlook in the U.K. looks stable for five years, but longer-term dangers persist
Brexit won't mean a "new London" emerges, Irish central banker Sharon Donnery says.
And Finally…
Brexit is proving too hot for the owners of Britain's curry restaurants.
The industry backed the breakup after being told by those campaigning for it that it would lead to more visas for South Asian cooks, but the government hasn't carried through and curry houses are already struggling to find enough foreign workers, the Associated Press reported.

For more on Brexit follow us on Twitter, Facebook and Instagram, and see our full coverage at Bloomberg.com
Before it's here, it's on the Bloomberg Terminal.
LEARN MORE