politics
Belarus Leader Vows Harsh Measures as Protest Showdown Looms
By
Nearly 300 people held in government crackdown before rally

Demonstrations were sparked by 'parasite tax' on jobless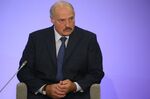 Belarusian President Alexander Lukashenko threatened a harsh crackdown on opponents of his rule amid mass arrests of protesters planning what they say may be the largest demonstration for years in the former Soviet republic.
"We don't shut anyone's mouth, but one step to the left or to the right away from the law will be stopped in the most severe way possible," Lukashenko said at a meeting with security officials on Thursday ahead of Saturday's planned rally in the capital, Minsk. "We're not scaring anyone and we won't. But we'll be very tough in ensuring the country's laws and constitution are observed."
Nearly 300 people have already been detained, jailed or fined for involvement in anti-government protests that have swept across Belarus since last month over a so-called "parasite tax" on the jobless, according to Viasna, a Minsk-based rights group. Police have started rounding up prominent activists in Minsk before the so-called Freedom Day march, the independent Belsat TV, which is based in neighboring Poland, reported Wednesday.
The authoritarian Lukashenko put off imposition of the tax last week but refused to bow to protesters' demands that he abolish the charge of about 360 rubles ($191) a year per person on those deemed to be "employable non-taxpayers." While he's faced dissent in the capital before, the outcry over the fee has spread discontent to all major cities in Belarus for the first time since he came to power in 1994. Opponents say that Saturday's rally in Minsk may be the biggest since mass demonstrations against the government in 2011.
'Armed Provocations'
Lukashenko alleged on Tuesday that security officials had arrested "dozens of militants" who were preparing to carry out "armed provocations" after undergoing military training at camps in Belarus, Ukraine, Lithuania and Poland. The Ukrainian Foreign Ministry denied there were any such camps on its territory. Authorities detained 26 people including "professional militants" on charges of preparing mass unrest, and seized weapons including guns and grenades, the state-owned news agency Belta reported Thursday, citing the country's KGB security service.
The protests against Lukashenko have erupted as Belarus faces a worsening economic crisis amid a dispute over oil and gas supplies from its larger neighbor Russia. The economy contracted for a second year in 2016 and incomes shrank more than 7 percent. Russia has cut oil shipments and refused to sell gas at a reduced price, blaming Belarus for accumulating $600 million in debt for deliveries. Belarus has also reported no agreement so far with the International Monetary Fund on a new $3.5 billion loan program.
Activists' demands have evolved from scrapping the fee to calls for Lukashenko to step down. Despite his crackdown on dissenters, the president has sought to counter the deterioration in relations with Russia by reaching out to the European Union to boost ties. Lukashenko also said this week that he wanted North Atlantic Treaty Organization observers to attend joint war games with Russia planned in his country in September amid heightened tensions between Moscow and the military alliance.
(
Updates with KGB comments in fifth paragraph.
)
Before it's here, it's on the Bloomberg Terminal.
LEARN MORE