This Tiny Drone Can Pollinate Flowers Like a Bee
A Japanese researcher's adhesive gel picks up and drops pollen grains on contact.
By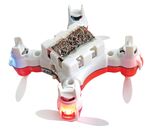 Innovator Eijiro Miyako
Age 37
Senior researcher at the National Institute of Advanced Industrial Science and Technology in Tsukuba, Japan
Form and function
Miyako has invented an adhesive gel that collects flowers' pollen grains and deposits them on other flowers upon contact. His goal is to offer farmers a tool to complement, not replace, bees and other natural pollinators.

Stick
The gel is applied to a small patch of horsehair anchored to the underside of a butterfly-size commercial drone. The water-resistant gel is durable but soft enough to avoid damaging the flowers.
Move
Miyako pilots the drone from flower to flower, rubbing the horsehair against pistils and stamens. Like the adhesive in a Post-It note, the gel is tacky but not sticky, so it releases some of the pollen grains on contact.
Origin
Concerned by the crisis that's killed billions of bees in the past decade, Miyako in 2015 started repurposing conductive gels he'd invented to collect pollen.
Safety
Miyako says experiments he's done on mouse cells show the gel is harmless and could be tweaked to be made biodegradable.

Funding
To his wife's chagrin, Miyako paid for the drones himself. Last year he received a $32,000 grant from the Japan Society for the Promotion of Science to further develop them.
Next Steps
Miyako's team published the results of its pollination gel research in the scientific journal Chem in February. He's seeking a $1 million grant to conduct further experiments with farmers and hire a roboticist to develop autonomous drones. Guido de Croon, scientific coordinator of the Micro Air Vehicle Lab at Delft University of Technology in the Netherlands, which has built the world's lightest driverless drone to date, says self-directed pollinators are probably a couple of years away from lab testing but will be a hot commodity once they're ready. "You could sell systems all over the world," he says.
Before it's here, it's on the Bloomberg Terminal.
LEARN MORE