Senate Confirms Trump Pick Friedman as Ambassador to Israel
By
Friedman is first U.S. ambassador approved since UN envoy

Nominee drew fire over decades of support for settlements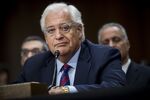 The Senate confirmed David Friedman, a bankruptcy lawyer whose history of support for Israeli settlements and opposition to a two-state solution put President Donald Trump's policy toward the Middle East under closer scrutiny, as U.S. ambassador to Israel.
Friedman, who once represented the Trump Organization, is the first ambassador approved by the Senate since UN envoy Nikki Haley in January. He was confirmed on a 52-46 vote Thursday.
Trump's nomination of Friedman roiled the foreign policy establishment because of his outspoken views and support for settlements. He drew fire for once having compared supporters of J Street -- a liberal Washington-based organization that lobbies on U.S. policy toward Israel -- to "kapos," Jews who oversaw fellow concentration camp prisoners for the Nazis during World War II.
During his nomination hearing, Friedman apologized for his "hurtful words," saying, "I deeply regret them." He also appeared to back away from decades of comments questioning the long-standing U.S. policy to seek a two-state solution to the Israeli-Palestinian conflict.
And although Friedman had led an organization that raises several million dollars a year for a religious school in the controversial West Bank settlement of Beit El, he said he didn't support an Israeli annexation of the territory, which has long been considered the future home of a Palestinian state.
At a meeting with Prime Minister Benjamin Netanyahu in February, Trump publicly urged Israeli Prime Minister Benjamin Netanyahu to "hold off" on expanding settlements.
'Tread Very Carefully'
"I think the expansion of settlements into new territory, beyond borders, I agree with the president, may not be helpful," Friedman told the Senate Foreign Relations Committee. "It makes sense to tread very carefully in that area."
That didn't convince his opponents. Gerald Feierstein, a former deputy assistant secretary of state and now a resident expert at the Middle East Institute in Washington, said at the time of his nomination that Friedman "has no experience and strong ideological views."
J Street continued to lobby against Friedman's nomination. In a statement after the Senate vote, the group said the divided tally on a post that usually wins unanimous confirmation "made clear that his extreme views and rhetoric about the Israeli-Palestinian conflict are firmly outside the mainstream of American policy making."
Read more about Trump and Israeli settlements -- a QuickTake
Trump, too, has sowed confusion on his stance toward Israel. He vowed during last year's presidential campaign to move the U.S. embassy from Tel Aviv to Jerusalem, but has said little of that proposal since his inauguration in January. At his meeting with Netanyahu, Trump seemed to step back from the seeking a two-state solution.
"I like the one that both parties like," Trump said of the path to peace. "I can live with either one. I thought for a while that two states looked like the easier of the two. If Israel and the Palestinians are happy, I like the one they like the best."
Before it's here, it's on the Bloomberg Terminal.
LEARN MORE