politics
Scandal Riveting Japan Crimps Abe's Popularity
By
Abe's wife accused of giving cash to nationalist kindergarten

Prime minister has repeatedly denied helping out school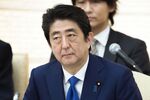 Envelopes of cash, a questionable land deal and a kindergarten where young children are taught the values of prewar imperialist Japan.
A scandal over the school's dealings is riveting Japan after an unusually long period of political stability. While there's no apparent immediate risk to Prime Minister Shinzo Abe, the accusations that he gave favors to the kindergarten have chipped away at his popularity, and could put a question mark over the timing of the next election.
"The tide has in some ways turned," said Steven Reed, a professor of political science at Chuo University in Tokyo. "Instead of going from success to success, he is in a pitfall."
How much worse things get for Abe hinges on whether any evidence emerges that catches him in a lie. The government on Thursday again denied that he or his wife Akie Abe donated to the school or helped it get a discount on a land deal.
Read More: Abe Government Denies Claim He Donated to Scandal-Hit School
The furor has been bubbling away for weeks, after questions surfaced over how the Moritomo Gakuen foundation was able to buy publicly owned land in Osaka for a fraction of its market value. The kindergarten is known for making children bow to portraits of the emperor and recite a 19th century imperial decree on education -- practices dropped elsewhere after Japan's World War II defeat.
Cash-Filled Envelope
During lengthy sworn testimony in parliament on Thursday, school principal Yasunori Kagoike said he called Akie Abe in late 2015 to seek help acquiring land for a new elementary school. He said he received a faxed refusal from her staff, but was later "a bit surprised" to find the foundation had been able to buy the tract for 134 million yen ($1.2 million), a discount of about 800 million yen.
Asked whether there was political involvement in the deal, Kagoike told lawmakers he thought there was. He also provided more details about the alleged donation. He said Akie Abe had visited in September 2015 and handed him an envelope with 1 million yen, saying it was from her husband.
Akie said in a statement posted on Facebook that she had neither donated money to the foundation nor received a call from Kagoike about the land deal. Prime Minister Abe reiterated his denial of any donation in parliament on Friday morning, and said Kagoike's testimony was false.
Read More: Abe's Wife Accused of Giving Cash-Filled Envelope in Scandal
"He made allegations about conversations behind closed doors that can't be disproved, and it is extremely regrettable that he said things that aren't true," Abe said. "Neither I, my wife or my office were in any way involved in the sale of public land or the approval of the school. I want to state that clearly."
Speaking on the land sale, Finance Minister Taro Aso told reporters on Friday that the transaction was completed with the proper procedures and pricing. Ministry of Finance official Yoshiki Takeuchi said in parliament that there were absolutely no political considerations in the deal.
Investors Watching
Financial markets had little reaction to the latest remarks. The Nikkei 225 Stock Average rose 0.9 percent at 11:15 a.m. in Tokyo on Friday, heading for a second straight gain, while the yen halted eight days of appreciation against the dollar.
Still, investors are watching the scandal. Abe has driven economic policies -- branded under his own name -- that sparked a stock-market rally and weakened the yen, even as he's faced criticism for falling short on reforms such as labor-market deregulation. With no obvious successor should Abe resign, there's a risk the economic overhaul would lose momentum.
Abe's Liberal Democratic Party earlier this month approved a rule change that would allow him to serve a third straight term as party leader, potentially stretching his time in office to 10 years -- a stark contrast to the revolving door of the six previous administrations, including Abe's prior term in office.
Slipping Polls
National elections are due by the end of next year, and before the scandal there was speculation Abe could call an early vote to capitalize on his popularity. A poll conducted by the Yomiuri newspaper on March 18-19 found support for Abe's cabinet had fallen to 56 percent from 66 percent the previous month.
Abe's first stint as prime minister in 2007 lasted only a year; he quit after a pension scandal, the resignation of four ministers and the suicide of another. He's fared better this time, fending off setbacks including gaffes by cabinet colleagues and the resignation of his economy minister last year after a magazine alleged he took bribes.
"This is not a matter that will have a long-term effect on Abe's support," said Jun Okumura, a visiting scholar at Meiji Institute for Global Affairs. "I think it will float back up."
— With assistance by Maiko Takahashi, Connor Cislo, and Takashi Hirokawa
(
Updates with comments from Abe, Aso and MOF official from eighth paragraph.
)
Before it's here, it's on the Bloomberg Terminal.
LEARN MORE