Merkel Plays Anti-Terror Card as German Election Year Kicks Off
By
State vote in Saarland on Sunday to test Social Democrat surge

Bellwether for chancellor ahead of September national vote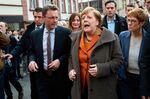 Angela Merkel's party is attacking her political opponents as weak on fighting terrorism and crime as the German chancellor seeks to blunt her main challenger's momentum in a state vote this weekend.
Germany's election year gets under way in earnest on Sunday when voters in Saarland choose a new state assembly, the first test of the Social Democrats' surge in polls since they chose Martin Schulz to run against Merkel in September. The chancellor's Christian Democrat-led bloc and the SPD were even at 32 percent each in an Infratest Dimap national poll published Friday.

In Saarland, a former coal-and-steel region in western Germany, Merkel rallied supporters during a turn-out-the-vote event in a state her Christian Democratic Union has governed for 18 years. Barely more than 24 hours after a deadly terrorist attack in London, she warned voters against opening the door to an SPD-led coalition, portraying left-leaning parties as soft on security.
"Whether on home break-ins, the fight against Islamist terrorism or making sure people conform with our laws," a potential government of Social Democrats, Greens and the anti-capitalist Left party "would be the complete opposite of what you see today," Merkel said late Thursday in the town square of St. Wendel, near the French and Luxembourg borders.
Even though Saarland is home to only about 1.5 percent of Germany's electorate, it's the first test of the "Schulz effect" that's energized the SPD and lifted it back into contention for the federal election on Sept. 24. Losing the state on Sunday would increase pressure on Merkel to campaign more aggressively against Schulz, a former European Parliament president, rather than focus her efforts on the final weeks before the nation votes.
National Parallel
Two bigger states with SPD-led governments, North Rhine-Westphalia and Schleswig-Holstein, hold elections in May. In contrast, Saarland is governed by a CDU premier with the SPD as junior partner, mirroring Merkel's government in Berlin.
"It's a miniature version of the national situation," said Famke Krumbmueller, a partner at OpenCitiz, a political-risk adviser in Paris. A Social Democratic victory "would show the electorate on the national level that change is possible -- vote SPD and you could have an SPD-led coalition. It's the first test of whether the Schulz effect is real."
The Infratest poll for ARD television suggests Germans would prefer an SPD-led government over another one led by Merkel's bloc by 44 percent to 33 percent. Yet while the Saarland race has tightened since Schulz's nomination, an FG Wahlen poll this week gave Merkel's CDU a five percentage-point lead with the SPD in second place.
Whether the Social Democrats can form a state coalition to oust CDU premier and Merkel ally Annegret Kramp-Karrenbauer may depend on the Green party's winning enough votes to remain in the Saarland assembly. It would also require a deal with the Left, led locally by former German Finance Minister Oskar Lafontaine, which the state premier attacked for advocating the dismantling of the state's security agency.
A coalition including the Left would be "dangerous to your lives," Kramp-Karrenbauer said alongside Merkel at the rally. "We saw yesterday in London that terror is not asleep."
Before it's here, it's on the Bloomberg Terminal.
LEARN MORE