Media Message, Celebrity Weibo Monitoring: Eye on Chinese Media
Bloomberg News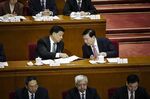 The key task for China's state media this year is to prepare for the upcoming 19th People's Congress, Liu Yunshan, a member of the Politburo Standing Committee, said during a tour of key outlets, according to the official Xinhua News Agency. Official media are often seen as working to spread Communist Party messages.
Elsewhere:
The development of China is an opportunity for the world, according to an opinion piece published by the People's Daily. Since President Xi Jinping's speech to the World Economic Forum in Davos, Switzerland, the country has become a greater champion of globalization, while many remain unconvinced about the ambition of international organizations such as the Asian Infrastructure Investment Bank.
People's Daily is watching the Weibo accounts of foreign celebrities. The official paper noticed that the micro-blogging accounts of Leonardo Dicaprio and David Beckham attracted many followers at the beginning, but failed to gather momentum later. The celebrities should maintain a recurring theme or topic and be active on their social media platforms, the paper recommended.
Premier Li Keqiang published an article at Chinese central government's website ahead of a visit to Australia. China and Australia should contribute the impetus needed for the world to move forward "in a disoriented era beset by uncertainties," the premier wrote.
— With assistance by Xiaoqing Pi
Before it's here, it's on the Bloomberg Terminal.
LEARN MORE