business
U.K. Spies Knew London Terrorist's Record of Crime and Extremism
By , , , and
U.S. tourist and police officer among three terror victims

Islamic State claim they inspired rampage that injured 29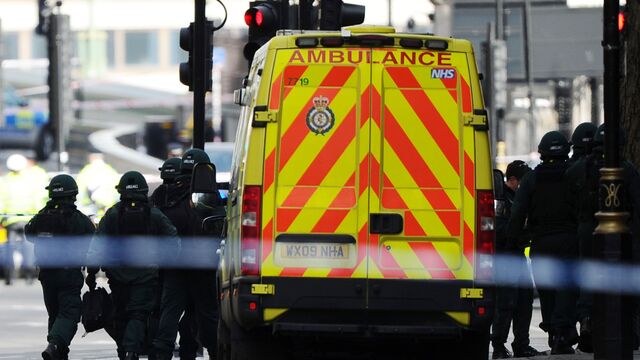 The terrorist behind the worst attack on London in more than a decade had a string of convictions for violence and was once investigated by British intelligence over concerns he was turning to extremism.
The attack claimed a fourth victim Thursday, with police saying a 75-year-old man died in the hospital of injuries suffered a day earlier. As the capital began returning to normal after Wednesday's radical Islamist-inspired rampage, police named 52-year-old British-born Khalid Masood as the man who carried out a car-and-knife attack before he was himself shot dead by a security officer.
"What I can confirm is that the man was British born and that –- some years ago –- he was once investigated by MI5 in relation to concerns about violent extremism," Prime Minister Theresa May said as she updated lawmakers in a somber House of Commons. "He was a peripheral figure."

Police said Masood was born in Kent, south-east England, and had been living in the West Midlands. He had a history of relatively minor convictions, including violence and possession of a knife, between 1983 and 2003, but had never been convicted of terrorism. 
Questions remain over how a small-time criminal became radicalized, graduating from minor public order offenses and damage to property to carrying out what was the worst terrorist attack on British soil since 2005.
Eight Arrests
Eight people were arrested as police raided addresses in Birmingham, London, and Wales, in an operation involving hundreds of detectives. The focus is now likely to turn to whether anything could have been done to prevent the attack. London Mayor Sadiq Khan told Bloomberg the attack shows the need to keep cooperating on security with allies in Europe and further afield, even after Britain pulls out of the European Union.
"Other major cities across the western world have been the targets of evil and twisted individuals trying to destroy our way of life and attack our shared values and we're not going to let them succeed," Khan said in a Bloomberg television interview. "The reality is only by cooperating with all, by working closer together can we ensure that our citizens are kept safe."
With Masood's motives and route to radicalization still unclear, the government defended the security services over suggestions they should have identified him as a threat. Classifying the attack as an intelligence failure "would be absolutely the wrong judgment to make," Home Secretary Amber Rudd told BBC television. "I think we have to careful before we point any finger of blame at the intelligence services."
The assault Wednesday by one of London's most popular tourist attractions began when Masood mounted the sidewalk on Westminster Bridge in a rental car and mowed down pedestrians before fatally stabbing police officer Keith Palmer within the grounds of the Houses of Parliament. Before the latest fatality, police said 29 people were hospitalized, two with life-threatening injuries.
Islamic State
Islamic State took credit on its Amaq news agency. The statement frames the attack as having been inspired and not directed by the group, which is an important distinction, said Charlie Winter, a senior research fellow at the International Centre for the Study of Radicalisation at King's College London.
The latest strike on a European capital is evidence of how terrorism is evolving, from centrally planned, highly organized attacks such as the July 2005 bombings on the London transport network to the logistically simpler ones as seen in Nice, and now Westminster.

One of the victims named was U.S. citizen Kurt Cochran, a tourist visiting London from Utah. President Donald Trump paid his own tribute on Twitter: "A great American, Kurt Cochran, was killed in the London terror attack." There were injured from Germany, Romania, France, Italy, Poland, South Korea, Greece, China and Ireland.
Evolving Terrorism
"Unfortunately, we're seeing an increasing number of terrorist attacks in the West which use unsophisticated methods," said Shiraz Maher, the deputy director at ICSR. "These are plots that are very easy to construct, require little money, planning, and expertise, but which are nonetheless highly effective in causing death and destruction."
For May, who made her name as the longest-serving Home Secretary for more than 100 years, the tragedy in the capital's seat of power poses a dual challenge: how to manage the potential backlash to news the assailant was known to the intelligence community along with the need to maintain security links with allies as the U.K. leaves the European Union.
"We are not afraid and our resolve will never waver in the face of terrorism," May said.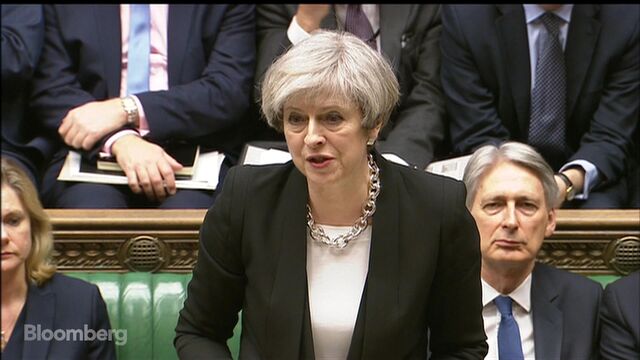 May appealed for people not to blame Muslims for the attacks and to work together to combat radicalization.
"What we should recognize is that it's individuals who are terrorists, they are adhering to a warped ideology of evil," the prime minister told lawmakers. "We must ensure that we do not demonize communities but work with them and identify and isolate those who wish to do us harm."
— With assistance by Edward Ludlow, and Alex Morales
(
Adds attack claims fourth victim in second paragraph.
)
Before it's here, it's on the Bloomberg Terminal.
LEARN MORE