Keystone Foes Prepare Fight as Trump Issues Pipeline Permit
By , , and
Federal authorization just shifts pipeline battle to Nebraska

Environmentalists vow protests and multi-pronged resistence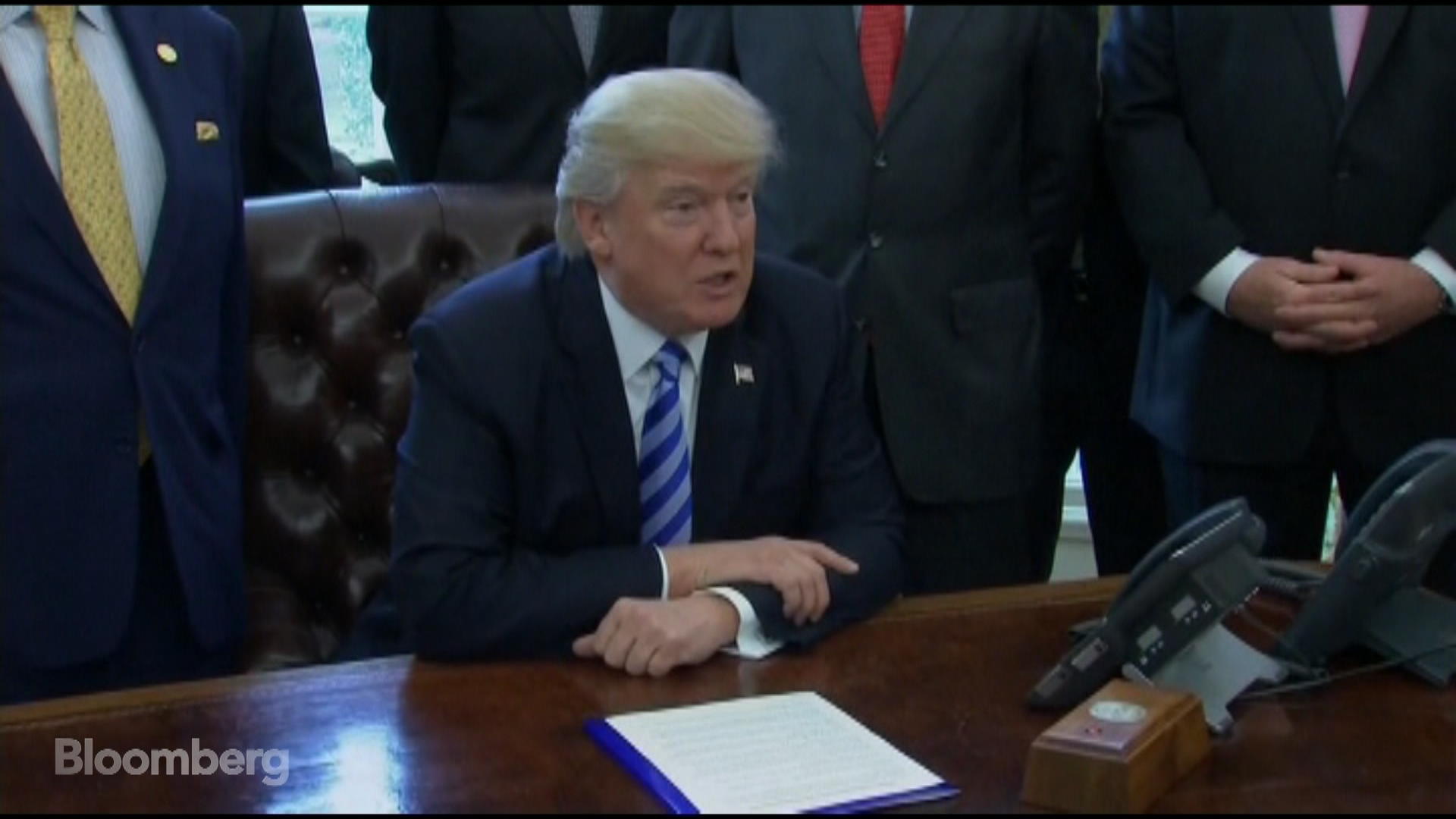 President Donald Trump made good on his promise to approve the Keystone XL oil pipeline -- but the fight is far from over.
Instead, it shifts to courtrooms, a Nebraska agency and congressional town hall meetings, where environmental activists and landowners have plotted ways to keep blocking the pipeline TransCanada Corp. has been trying to build for more than eight years. Just winning Nebraska regulators' approval for Keystone XL's route through the state could take TransCanada another six months. State and federal court battles could prolong the process.
"You're looking at two to three years of legal challenges, at least," Bold Alliance President Jane Kleeb told reporters after the Trump administration's announcement Friday. Kleeb has led opposition to the pipeline's route through Nebraska.
The State Department on Friday issued a presidential permit authorizing TransCanada to construct, connect, operate and maintain the project -- a decision TransCanada President Russ Girling called "a significant milestone." The company would be able to get the rest of the approvals it needs this year, he said.
Previous: Tillerson Recuses Himself From Keystone XL Pipeline Review
The decision reverses former President Barack Obama's rejection of the $8 billion project in 2015, after the State Department concluded it did not serve the national interest. The pipeline is slated to carry as much as 830,000 barrels of oil per day from Alberta, Canada, crossing 1,179 miles (1,897 kilometers) and cutting through Montana and South Dakota on its way to Steele City, Nebraska. From there it will join a southern leg that flows to Gulf Coast refineries.
Keystone has long been a flash point for fossil-fuel opponents who argue it will encourage the development of Canadian oil sands crude, which generally requires more energy to extract and process. Landowners also say it also endangers drinking water resources in America's heartland.
Those same opponents who during the Obama administration chained themselves to bulldozers, rallied at the White House and forced route revisions in Nebraska are now planning new protests along the pipeline's path -- as well as a multi-pronged legal attack.
"A federal approval of the permit is not the end of the line for this project; there's still many obstacles," said Anthony Swift, an attorney with the Natural Resources Defense Council. "The business case for Keystone XL makes no sense," and the environmental case never has, he said during a press call.
Spokesmen for Calgary-based TransCanada did not immediately reply to a request for comment on the opponents' remarks.
QuickTake: Oil Sands and the Environment
TransCanada officials have said the company is committed to build a state-of-the-art pipeline system that will be monitored around the clock using satellite technology and aerial patrols. The company has stressed that pipelines are safer than trains for transporting crude and has vowed to work with all stakeholders in Nebraska.
Sara Shor, a campaign manager for the climate advocacy group 350.org, vowed to "raise hell at the national level" and recruit millions of people to fight the project, including by highlighting their concerns during lawmakers' town halls during a planned congressional recess next month.
"We're going to continue to make Keystone XL a political issue and push every elected official to come out against this project," Shor said.
Environmental groups are slated to file at least one legal challenge right away -- arguing that the State Department violated the National Environmental Policy Act by approving Keystone on the basis of a three-year-old analysis of the project they say was built on a raft of assumptions that are no longer accurate.
Prior story: Trump Pins Keystone, Dakota Pipeline Fate on Renegotiation
Among them: An assumption that oil prices would stay above $100 per barrel over the next two decades. West Texas Intermediate crude oil, the U.S. benchmark, traded near $100 a barrel when the State Department's final environmental study was issued in January 2014 but has slumped by roughly half, now hovering near $50 a barrel. That comes after a prolonged rout that sent crude plummeting to nearly $26 in 2016.
"The oil market has shifted and will always be shifting, and it's really not adequate to rely on an old analysis," said David Turnbull, campaigns director with Oil Change International.
That earlier analysis also was built around assumptions on the availability of rail transport and alternatives for moving Canadian oil sands crude that have not come to pass, Swift said. Pipeline capacity from the Canadian oil sands is expanding, so producers have more options to send their crude to market.
Other legal challenges will play out in Nebraska, where some landowners had forced changes to the project during previous reviews. At least 40 groups or individuals filed applications to intervene with the state's Public Service Commission. At least one of the petitions came from a law firm representing 92 people.
TransCanada submitted an application to the commission last month, triggering a 210-day period for the agency to decide whether the company demonstrated the project serves the public interest. That points to a decision in September, although the commission can agree to extend its review.
Eminent Domain
If TransCanada wins state approvals and invokes eminent domain to claim land for pipeline construction, Bold Alliance will file a lawsuit, Kleeb said.
Separate challenges may unfold in South Dakota, where opponents earlier this month asked a judge to reverse an authorization critical to its path through the state.
All of the activity means that Keystone's "best-case scenario for coming online" is the second half of 2019,  according to Bloomberg Intelligence analysts Rob Barnett and Brandon Barnes.
TransCanada is making its third attempt to carve a path across Nebraska. After the company encountered opposition from landowners with its initial proposed route, which sliced through the state's environmentally sensitive Sand Hills region, lawmakers passed and then-Governor Dave Heineman signed legislation enabling him to work closely with the company to chart a course for the project. Successive landowner legal challenges over the legality of that maneuver brought the project to a standstill. 
The company eventually surrendered to a review by the commission -- shortly before Obama's rejection.
In Weeds
All the concerns about land, water and using foreign steel remain, Kleeb said. "It's going to be a long process -- very much into the weeds," Kleeb said in a phone interview. "The courts are the only fair and viable path for us," given Trump's support, she said.
Native Americans have battled the Dakota Access Pipeline in South Dakota and are set to reprise the activity against Keystone XL.
The activism will spill over into local debates over other pipelines proposed to ferry oil and natural gas across the country, Shor said. Her group, 350.org, is planning to "use Keystone to fight hundreds of other projects" nationwide. 
"People are going to be mad at Trump for bringing Keystone back because it's going to cause resistance for every single pipeline project across the country and it's going to cause pressure for the banks that fund all these projects," Shor said. "We are building an army of resistance. This fight is not over. And we're going to have to keep on fighting this for probably years to come."
— With assistance by Ari Natter, and Robert Tuttle
Before it's here, it's on the Bloomberg Terminal.
LEARN MORE