House Ethics Defers to Justice Department in Duncan Hunter Spending Probe
By
Hunter may have spent campaign funds on jewelry, trips

Early Trump supporter has repaid campaign $60,000 so far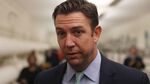 The House Congressional ethics committee said it is letting the Justice Department take the lead in a review of whether California Republican Duncan Hunter improperly used campaign funds to pay for personal expenses.
Hunter, who hasn't been accused of wrongdoing, may have used tens of thousands of dollars of campaign funds from his congressional campaign to pay for family travel, flights, utilities, health care, school uniforms, tuition and jewelry, the House Office of Congressional Ethics said in a report released Thursday.
Elliot Berke and Gregory Vega, attorneys representing Hunter, said that congressman and his wife repaid the campaign $60,000, and that Hunter "maintains that to the extent any mistakes were made they were strictly inadvertent and unintentional."
Hunter was among the first congressional Republicans to endorse President Donald Trump. In April 2015, his campaign disclosed several expenditures as "mistaken purchase" or "personal expense" that would be paid back. The Federal Election Commission then requested more information on the expenditures, and the campaign filed subsequent reports with additional personal expenses.
Citizens for Responsibility for Ethics in Washington, a liberal group that investigates congressional misconduct, then filed a complaint with the Office of Congressional Ethics in April 2016, calling for an investigation into Hunter's spending. In August, according to the report released Thursday, the OCE recommended that the matter be investigated further.
The Justice Department, which declined to comment, had asked the House ethics committee to defer consideration of the matter, the panel said.
Before it's here, it's on the Bloomberg Terminal.
LEARN MORE