markets
Hospital Stocks Head for Rocky Ride Through Obamacare Repeal
By
Proposal would undo gains in coverage, hurt bottom lines

Republican leaders looking for support for House floor vote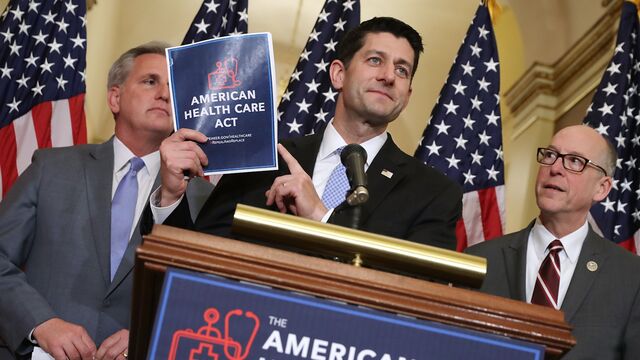 Investors in hospital stocks are banking on a key idea: the GOP's final overhaul of Obamacare won't be as bad as it looks right now. 
The current version of American Health Care Act, headed for a House floor vote Thursday, would slash billions from health spending and raise insurance costs for many, according to an analysis by a nonpartisan government body. That would be bad news for hospitals, which must take care of sick patients whether or not they can pay.
"There's still an expectation that what passes the Senate will look a lot better than what we have now for hospitals," Michael Newshel, an analyst at Evercore ISI, said in a telephone interview. "Things are still going to be pretty volatile until that happens."
Hospital chains' shares have shuddered through the early process of repealing and replacing Obamacare as investors try to determine the GOP bills' impact on the bottom line, and it's likely to continue. Party leaders worked through the night to gain support from holdouts, and the White House discussed revisions with conservatives in the House Freedom Caucus, trying to gain votes to get the bill passed and on to the Senate.

The troubling outlook for hospitals is a far cry from when Obamacare was signed into law exactly seven years ago. Health-care stocks boomed under its first five years amid increased medical spending and a run of consolidation among drug and device makers. The S&P 500 Health Care Index more than doubled from the date the legislation was signed in 2010 to its peak in July 2015.
Hospitals began their steep rise after the Affordable Care Act, sometimes called Obamacare, survived one of several challenges of its constitutionality in June 2012. From that point, a Bloomberg index of seven hospital stocks, including HCA Holdings Inc., Tenet Healthcare Corp. and Community Health Systems Inc., began an upward swing and peaked after tripling in July 2015. 
As uninsured rates declined and the benefits began to reach hospitals' balance sheets, "these stocks were off to the races," said Sheryl Skolnick, an analyst with Mizuho Securities.
The Obamacare rally sputtered after five years when it appeared that coverage gains had reached their limit. Still, the surprise victory of President Donald Trump, who campaigned on a promise to repeal and replace the ACA, sent the Bloomberg hospital index down 14 percent. Since the day after the U.S. election, the sector has been roiled by questions of how the administration would replace the Affordable Care Act, which brought the U.S. uninsured rate down to a record low of 8.6 percent.
Hospitals are trading about 12 percent below their five-year averages as admissions growth has slowed, according to an analysis by Bloomberg Intelligence. HCA, the biggest U.S. hospital chain, gained 1.1 percent to $83.45 at 10:05 a.m. in New York, and No. 2 Tenet rose 1.4 percent to $16.58.
Disaster for Hospitals
Smaller community hospitals and safety net hospitals would be hit hardest under the GOP bill, said Andy Slavitt, who headed the Centers for Medicare and Medicaid Services under former President Barack Obama. Lower payments from fewer Medicaid patients would cause uncompensated care costs -- the care hospitals provide without payment -- to balloon.
"It's a disaster for hospitals," Slavitt said in a telephone interview. "It decreases enrollment quickly and spikes rates up from 20 to 30 percent depending on who you talk to. Many people will find coverage unaffordable."
Anything that closely resembles the existing GOP bill would hurt hospitals and insurers who manage Medicaid, said Spencer Perlman, an analyst with Veda Partners. It would roll back the Medicaid program, which was expanded under Obamacare, and trim programs that helped older Americans afford private insurance. The potential increase in the uninsured would burden hospitals, which can't turn away patients based on their ability to pay. 
President's Answer
"They're talking about taking an exorbitant amount of money out of the Medicaid program," said Perlman. "If you get rid of the expansion and implement per capita caps and squeeze money out of the Medicaid program, no question that would be quite negative."
Trump's proposed budget indicates more bad news for hospitals, said John Morrow, an analyst with Franklin Trust Ratings. The budget, primarily an indication of the president's priorities, reduces discretionary spending for the Department Health and Human Services 23 percent, and slashes about 17 percent from the National Institutes of Health, which funds research at hospitals, medical schools, and academic laboratories around the country.
While the Affordable Care Act's impact may be yet to be seen, the outcome of the election shows that people weren't satisfied, and it isn't surprising that the reaction was to cut the program's funds, he said.
"Consumer sentiment was significant enough to elect a different president and that president's priority -- one of the top three issues before jobs -- was to fix health care," he said. "He promised to fix it, and this is his answer."
(
Updates with overnight negotiations in fourth paragraph, shares in ninth paragraph.
)
Before it's here, it's on the Bloomberg Terminal.
LEARN MORE