Greek Deposits Bleeding Drama Resumes Amid Bailout Uncertainty
By and
Finance minister Tsakalotos locked in talks with creditors

Central bank increases Emergency Liquidity Assistance ceiling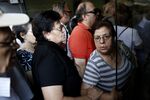 Greek deposit outflows resumed, prompting the country's central bank to raise the ceiling of emergency liquidity available to lenders, as a deadlock in bailout talks sparked fears among savers of reliving the 2015 drama that pushed the country to the edge of economic collapse.
The Governing Council of the European Central Bank didn't object to a Bank of Greece request to raise the ceiling of Emergency Liquidity Assistance available to Greek lenders to 46.6 billion euros ($50 billion), according to a statement on Thursday. The 400 million-euro increase "reflects developments in the liquidity situation of Greek banks, taking into account private-sector deposits flows," the Athens-based central bank said.

Outflows this year through last Thursday totaled about 3.6 billion euros, a person familiar with the matter said. They reflect a diminishing stock of banknotes as people pay taxes and an orderly flow of funds toward foreign bank accounts, said the person who asked not to be identified because the information isn't publicly available.
It is the first time since the Bank of Greece started releasing ELA ceiling data in September 2015 that an increase was deemed necessary, and the first time the central bank omitted a reference to a "stabilization" or "improvement" of deposit flows in its statement. Greece's financial sector saw net inflows in 2016, when savers' confidence in banks' health was gradually returning.
The Bank of Greece had lowered the ELA ceiling by 100 million euros only two weeks ago. A spokesperson for the central bank wasn't immediately available for comment.
Bailout Talks
Negotiations between Greek bailout auditors and Finance Minister Euclid Tsakalotos over the terms of the country's emergency loans have so far failed to reach a successful conclusion, prolonging a standoff that risks leaving the country unable to service debt payments this summer. Uncertainty has been weighing on economic activity, threatening to derail hopes for a recovery this year.
ELA is a temporary liquidity facility, which carries an interest penalty of 150 basis points compared to the ECB's regular financing lines. Borrowing under its terms thus raises costs for the country's battered lenders. While an increase in the ceiling risks undermining confidence, a potential exacerbation of liquidity constraints could force the central bank to tighten capital controls put in place in the summer of 2015, when Prime Minister Alexis Tsipras announced a referendum that sent savers queuing in front of ATMs.
Before it's here, it's on the Bloomberg Terminal.
LEARN MORE