Election Day Guide: Hong Kong Vote Shaped by China's Heavy Hand
By
Beijing-backed Lam favored to win against more popular Tsang

China holds sway over election committee that will vote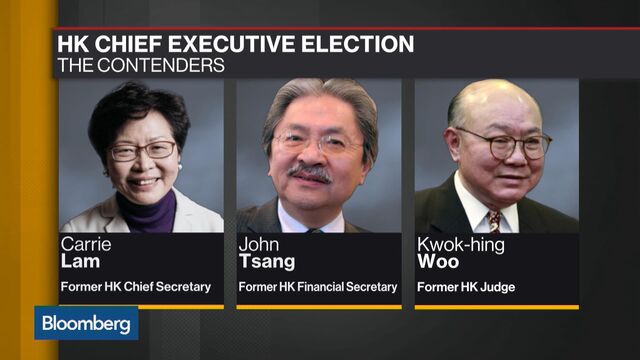 Hong Kong's elite selects a new leader Sunday in a vote marked by leaks about China's behind-the-scenes efforts to control who runs the former British colony.
Beijing's support for Carrie Lam, Hong Kong's former No. 2 official, has been so overt that even she has complained it's hurt her popularity. Her main rival, ex-Financial Secretary John Tsang, 65, has seen his poll numbers surge among members of the public, who have no say in the vote. The race will be decided by an election committee of 1,194 political and business elites.

Tsang's popularity shows China's dilemma as it seeks to preserve the "one country, two systems" framework promised to Hong Kong before the U.K. handed back the city two decades ago. A victory by Lam, 59, risks aggravating frustrations with the political system -- illustrated by the Occupy protests of 2014 -- even if Chinese President Xi Jinping secures a proven loyalist as chief executive for the next five years.
"This election has been unusual -- even before Hong Kong people had an adequate opportunity to express our views and influence her platform, she was said to be 'The One' selected by Beijing," said Chung Kim-wah, a political scientist at Hong Kong Polytechnic University. "That stirred antagonism not only against her, but against the system."
Here's a guide to Sunday's election:
Billionaires Vote
Voting will begin at 9 a.m. Sunday at the Hong Kong Convention and Exhibition Center, the sole polling place in the city of 7.3 million. An eclectic mix of politicians, activists, professionals and business leaders -- including nine billionaires with a combined wealth of more than $100 billion -- will vote.

Ballots will be opened at 11 a.m., with results expected within an hour or two. While more rounds of voting will occur if no candidate receives a majority, runoffs haven't been necessary in past elections.
Surprise Potential
A Tsang victory would represent a slap to China, forcing it to decide whether to veto the closest thing the country has to a leadership election. That remains a remote possibility because ballots are secret and Tsang has pledges from more than 290 opposition members -- almost half of the 601 votes he needs. 
Retired High Court Judge Woo Kwok-hing is also on the ballot, though has struggled to gain traction.
Property Prices

Hong Kong has the world's most expensive housing prices, and all the candidates have proposed reining them in. Lam wants to identify building sites and create more subsidized housing for first-time and middle-class buyers.

Tsang pledged to provide public housing for 60 percent of the population, compared with 45.6 percent now. Woo has promised to phase out a 15 percent tax on re-sales, while increasing land supply.
Personal Attacks
The former colleagues have taken swipes at each other, with Tsang comparing Lam to their unpopular old boss, Chief Executive Leung Chun-ying, who decided against seeking re-election. "In many areas she's very similar to C.Y.," Tsang said at a March 19 debate. "If she continues C.Y.'s path, I'm worried society will be increasingly polarized."
Lam, who has promised a more inclusive leadership style, hit Tsang over his management style. "When I went to John's office for a meeting, I saw that there was no file, no paper on his desk," she said. "I admired him much. My desk was always full of files and documents."
China Factor

China has shown little tolerance for uncertainty after the emergence of a pro-independence movement, stepping in to interpret the city's charter and bar two radical lawmakers from the local legislature. Zhang Dejiang -- the Communist Party's No. 3 leader -- told business executives and political leaders last month that Lam was preferred, the Standard newspaper reported, without saying where it got the information.
At least two pro-Beijing lawmakers, Regina Ip and Jasper Tsang, have said they were discouraged from contesting the race. The committee's pro-Beijing politicians helped Lam receive 580 nominations, more than triple her opponents.
'No Honeymoon'
Lam's popularity on the election panel hasn't translated into support among the broader public. Tsang was preferred by 46.6 percent, compared with 28.2 percent for Lam, according to a South China Morning Post/Chinese University of Hong Kong survey published March 16.

Declining poll numbers pose a challenge for Lam, who acknowledged in a Bloomberg interview last month that perceptions of China's backing had damaged her support. Some 63 percent of respondents to the SCMP survey said a less popular chief executive would face problems governing Hong Kong.
"She won't have any honeymoon," said Ivan Choy, a senior politics lecturer at Chinese University. "The question is whether she can bring about some important political move that improves her popularity."
Before it's here, it's on the Bloomberg Terminal.
LEARN MORE