Virgin Islands Joins Protest Against Obamacare Repeal
By
Island looks to cut $8 million in retiree benefits, Mapp says

Territory opted into Medicaid expansion, received $300 million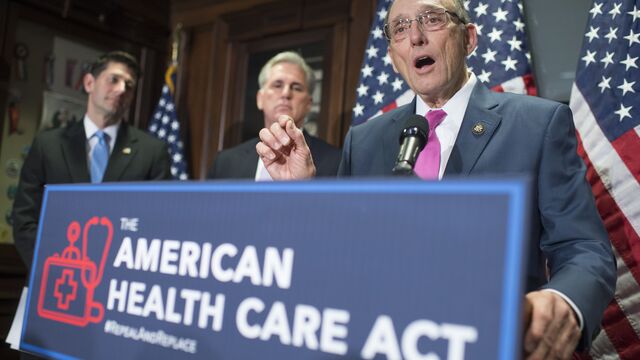 The U.S. Virgin Islands, already struggling to regain access to capital markets, is wondering how it would handle the financial blow from a possible repeal of Obamacare.
The U.S. territory, which opted into the Medicaid expansion along with 32 states including D.C., has received more than $300 million from the federal government to provide health-care for children and seniors living in poverty. Governor Kenneth Mapp said if supplemental Medicaid funds are scaled back, they wouldn't be able to assume the costs at their current levels.
"There is no way that we can continue to pay the full cost or the shared cost for the retiring community from the government of the Virgin Islands and at the same time pick up the costs for grandchildren and children that need access to coverage and insurance," Mapp, an independent, said Wednesday at a press conference on the island of St. Thomas.

Mapp is part of a growing chorus of governors who say the current GOP plan to repeal the Affordable Care Act would leave more of their constituents uninsured and pressure their states' budgets.
The credit-rating companies have said the House Republicans' proposed health-care bill would expose states to financial risks with its structural changes to Medicaid. It would also be a credit negative to hospitals, Moody's Investors Service said. The Congressional Budget Office said more than 24 million could become uninsured if the bill passes.
The Virgin Islands, with about 100,000 residents, is already looking to cut $8 million worth of benefits given to retired government workers, Mapp said. Before they are eligible for Medicare or Medicaid, retirees' health insurance is paid through the island's general fund. The government currently has about $40 million in obligations to retirees allocated in this year's fiscal budget.
The governor added his administration is looking for "the least painful way" to reduce costs. "$40 million is a price tag that is growing that we cannot continue to pay."
The House is looking to take a vote on the American Health Care Act on Thursday.
(
Changes Mapp's party affiliation to independent from Republican throughout.
)
Before it's here, it's on the Bloomberg Terminal.
LEARN MORE