U.S. Preparing 1MDB-Linked Charges Against Jho Low, WSJ Says
By and
Criminal charges may be filed for money laundering, wire fraud

U.S. had filed civil suit to seize about $1 billion in assets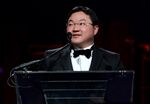 U.S. authorities are planning to file criminal charges against Malaysian financier Jho Low in a money laundering investigation surrounding 1Malaysia Development Bhd., the Wall Street Journal reported.
The charges would also include wire fraud against Low and some of his associates, the paper said, citing people it didn't identify. The report said the prosecution's plans could change or be dropped as the probe continues and there was no timing provided on when the charges could be filed.
The Malaysian investment fund is at the heart of multiple investigations across the globe, with U.S. prosecutors previously characterizing Low as the controller of a scheme involving dozens of illicit payments draining billions from 1MDB. The U.S. Department of Justice said in July that more than $3.5 billion was misappropriated from 1MDB, as the agency sought to seize about $1 billion of assets it claims was laundered through the U.S. banking system.
DOJ officials visited Singapore earlier this month and conducted interviews in the city relating to Low and his connections with 1MDB, according to two people familiar with the matter. Among the questions asked were about his attendance at certain meetings and his role in structuring deals, said the people, who asked not to be identified because the matter is private.
Low, known for partying with Lindsay Lohan and Paris Hilton, directed funds from 1MDB to connected individuals and for the "personal gratification" of himself and his associates, U.S. prosecutors had said. Low had described to newspapers his ties to 1MDB as informal consulting work that didn't break any laws.
An explainer on 1MDB and the worldwide probes into the fund
The U.S. Department of Justice didn't respond to a call for comment on the report. Low's Hong Kong-based company Jynwel Capital didn't respond immediately to an email request for comment on the potential charges. 1MDB, which has consistently denied any wrongdoing, didn't immediately reply to a request for comment.
Singapore police in November identified Low as a "key person of interest" in its money laundering probe that it described as a complex and sophisticated investigation involving billions of dollars. Singapore is also building a potential criminal case against Low, the WSJ said, citing a person familiar with the probe that it didn't identify.
Malaysia's government has said it will cooperate with lawful investigations of local companies or its citizens in relation to the fund.
Before it's here, it's on the Bloomberg Terminal.
LEARN MORE