Trump to Visit Brussels in May to Meet With NATO Leaders
By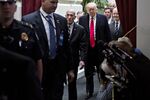 President Donald Trump will travel to Brussels in May to attend a meeting of NATO, his first scheduled trip overseas that comes as European leaders remain anxious about whether the U.S. will continue its level of support for the 28-nation alliance.
The White House in a statement announcing the May 25 trip said NATO Secretary General Jens Stoltenberg will visit Washington April 12. In a call last month with Stoltenberg, Trump agreed to join in a meeting of NATO leaders. He is also planning to attend the G-7 Summit during the same month in Italy.
"The President looks forward to meeting with his NATO counterparts to reaffirm our strong commitment to NATO, and to discuss issues critical to the alliance, especially allied responsibility-sharing and NATO's role in the fight against terrorism," White House Press Secretary Sean Spicer said in the statement.
The president spurred widespread anxiety in NATO when he called the alliance "obsolete" and suggested during last year's presidential campaign that the U.S. might not honor its defense commitments if other members don't pay their share.
Trump has complained that most NATO nations weren't meeting the alliance's goal that members spend 2 percent of their GDP on defense. The U.S. accounts for about 70 percent of NATO's overall defense expenditure. U.S. Defense Secretary James Mattis warned in mid-February that Washington would "moderate" its support unless other members contribute more.
Trump met with German Chancellor Angela Merkel Friday at the White House, an awkward summit that followed with Trump tweeting a day later that Germany owes "vast sums of money to NATO" and the U.S. "must be paid more for the powerful, and very expensive, defense it provides to Germany!"
Before it's here, it's on the Bloomberg Terminal.
LEARN MORE